Charged Particle Beams and High Powered Pulsed Sources
Dates: May 25, 2017 - May 26, 2017
Wildwood 6, Waterfront Convention Center
Harrah's Resort Atlantic City, Atlantic City, New Jersey, USA
As part of the International Conference on Plasma Science 2017 (ICOPS 2017), a special 1.5-day mini-course on Charged Particle Beams and High Powered Pulsed Sources will be offered. This mini-course will be tutorial in nature and it will cover topics in the areas spanning fundamental research on theoretical modeling, computational approaches, and experimental findings. It will play an enabling role in bringing together experts in these fields so as to ensure optimal coordination among the fields. Some of the lecturers will describe the latest progress of their discipline while others will offer overview lectures and review their present research interests and the context in which these areas of research are highly valuable. Participants at this conference will acquire a broad range of knowledge and skills that will enable them to contribute to many areas of plasma science and technology.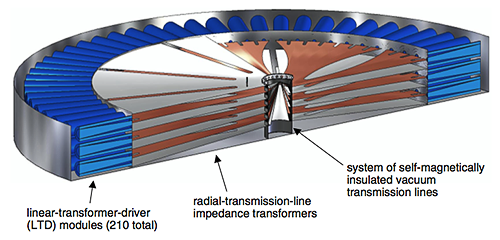 Proposed model of a 1,000 terawatt LTD-based z-pinch accelerator. 104 m diameter, 70 million amperes, 24 megavolts.
__________________________________________________________________________________________________________
Registration Fee: US $350 student and US $550 regular participant; Registration will include snack and dinner on May 25 and breakfast, lunch and two snacks on May 26, 2017.
Mini-Course Agenda
Mini-Course Overview
A potential funding opportunity to participate in the Mini-course is the Paul Phelps Continuing Education Grant
__________________________________________________________________________________________________________
Mini-course Lecturers
___________________________________________________________________________________________________________
Chair of Mini-course