Travel and Accommodations
Atlantic City is close in proximity to the New York, Philadelphia, and Washington D.C. metropolitan areas where a third (1/3) of the population of the United States lives. Atlantic City is within easy travel distance of approximately 60 miles (90 km) from Philadelphia, 125 miles (200 km) from New York City, and 175 miles (280 km) from Washington, D.C.
The best time to visit Atlantic City is either from March to August. Although a nice breeze blows through the seaside town in the spring and summer, the days are defined by some humidity with average highs in the range of around 80 oF or 27 oC. Temperatures drop in the evenings, so it is recommended to bring a sweater or jacket, especially if you're going to enjoy Atlantic City's nightlife. Visitor's guidebooks will be provided in your registration materials.
Hotel
Harrah's Resort will host the 44th International Conference on Plasma Science (ICOPS 2017)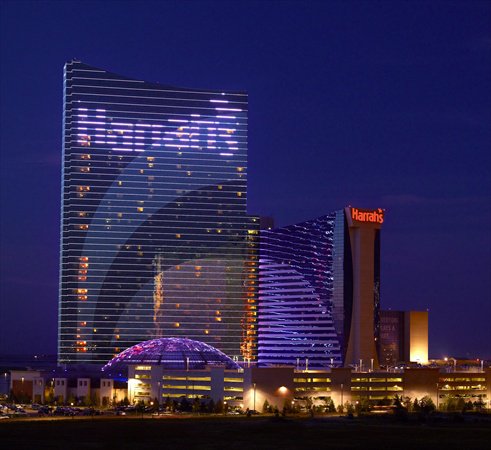 . The resort in Atlantic City is part of Caesar's Entertainment (https://www.caesars.com/harrahs-ac).
All participants to ICOPS 2017 have the option of group booking ($179 + taxes and fees per night) that is reserved by Harrah's Resort Atlantic City. A government rate of $94 + taxes and fees per night is available as well. Please note that the hotel reservation deadline at this price is Friday, April 28, 2017. The resort address and booking information is as follows:
Harrah's Resort Atlantic City
777 Harrah's Blvd, Atlantic City, NJ 08401
Booking Call Center Phone #: 1-888-516-2215
Group Code: SH05EE7
For Group Booking click here: https://aws.passkey.com/go/SH05EE7
Note: If you are looking for a roommate please contact ICOPS concierge for further information.
Parking
On-site parking is available at the Harrah's Resort Atlantic City. The fees are $10 daily on weekdays and $15 daily on weekends.
Internet Access
Waterfront Conference Center Access: Harrah's Resort AC has open WiFi access on the casino floor, restaurants, shopping areas, and on in the Waterfront Conference Center. Just click on the "HarrahsResort-WIFI" network and type in your information and agree to the terms. not for this conference center access do not click on the hotel guest button.
Harrah's Guestroom Access: For guests staying in the hotel rooms, ICOPS 2017 has prearranged for complimentary guest room internet access. To access choose basic, it will show up as a charge but will be removed from your hotel bill upon check out. This will allow connection of up to 2 devices.
Airports
Atlantic City International Airport
Address: 101 Atlantic City Int'l Airport #106, Egg Harbor Twp, NJ 08234
22 min. by car
How to get around Atlantic City: http://www.atlanticcitynj.com/plan/getting-to-ac/atlantic-city-int-airport/
Once you arrive: A taxi or Jitney is a quick and easy way to get to your destination once arriving at ACY. These services can be found at their booths in the baggage claim area or directly outside of the terminal. For car rentals, the airport is served by four major car rental agencies located directly across from the terminal in the parking garage.
Atlantic City Jitney:
Shuttle from the Atlantic City International Airport to Atlantic City destinations.
For information and times:
Please call 609-344-8642 from 8:30 a.m. - 4:30 p.m.
Monday - Friday. Please call 609-576-2776 after 4:30 p.m. and on weekends.
Philadelphia International Airport
Address: 8000 Essington Ave, Philadelphia, PA 19153
1 hr. 5 min. by car
Newark Liberty International Airport
Address: 3 Brewster Rd, Newark, NJ 07114
1 hr. 55 min. by car
John F. Kennedy International Airport
Address: John F. Kennedy International Airport, Queens, NY 11430
2 hr. 30 min. by car
Ronald Reagan Washington International Airport
Address: Ronald Reagan Washington International Airport, Arlington, VA 22202
3 hr. 15 min. by car
If you are not flying into Atlantic City directly, please take advantage of the many forms of public transport available to you. Remember, taking a taxicab from Philadelphia or New York City to Atlantic City will likely cost more than taking a shuttle or even a limousine, so be sure you have your arrangements made in advance.
www.rome2rio.com

is a helpful source for finding transportation to Atlantic City:
For example: Travel from Newark International Airport to Harrah's Resort, Atlantic City.
International Visitors to the United States
For Non-U.S. Citizens/Residents
Disclaimer:
Please note that this content is for general information purposes only. While every effort is made to ensure that the information provided is accurate and up-to-date, regulations may change. The only authoritative sources on U.S. visas are U.S. government websites.
Attention:
The Institute for Electrical and Electronic Engineers (IEEE) and Seton Hall University (SHU) cannot in any way intervene with U.S. Embassies or consulates abroad, or with the U.S. State Department on behalf of any IEEE member or IEEE meeting participant.
Visa Application Process
What type of visa?
Generally, non-U.S. citizens/residents must obtain a nonimmigrant B-1/B-2 visa to enter the United States for a temporary visit.
Visa Waiver Program
Under the Visa Waiver Program (VWP), citizens of certain countries may travel to the United States for stays of 90 days or less without a visa. Anyone traveling under VWP must apply for authorization through the Electronic System for Travel Authorization (ESTA).
Set Up Your Visa Interview
If you are not eligible to travel under the Visa Waiver Program, you may be required to appear at a U.S. embassy or consulate for an in-person interview prior to visa approval. There may be long waits to schedule an interview, so start the application process as early as possible.
What to Bring to Your Visa Interview
Visa Wait Times
The U.S. Department of State's Bureau of Consular Affairs provides visa wait times for every U.S. Consulate worldwide.
Administrative Processing
Some applications require additional "administrative processing" and this adds several weeks to the application process. Applicants involved in scientific fields are often subjected to administrative processing and should apply for visas as early as possible, preferably 3-4 months in advance. Bring your CV and letter of invitation to the visa interview to help facilitate any additional processing.
Visa Delays & Issues
The National Academies' International Visitors Office (IVO) is a valuable resource on visa-related issues for scientists. IVO can inquire at the U.S. Department of State about the status of certain U.S. visa applications that are delayed.
Entering the United States
Information on the Visa Waiver Program, the Office of Biometric Identity Management (OBIM), U.S. Customs and Border Protection, and the Department of Homeland Security's Travel Redress Inquiry Program.
U.S. Government Websites
Conference Concierge / Atlantic City Liaison