Scholarships

Students who are accepted to graduate programs of study may be eligible for various forms of University-subsidized or endowed scholarships funds. The University Graduate Scholarship affords newly admitted graduate students in either a master's or doctoral program to be considered for upwards of several thousands of dollars toward their first year of study. Criteria for consideration include a prior grade point average of at least 3.0 on a 4.0 scale and demonstrated financial need. In addition, the Dean's Graduate Scholarship and a variety of endowed scholarships offer prospective students additional and lucrative opportunities for financial assistance. The availability of funds, as well as the criteria for consideration and eligibility, will vary by academic department.

Prospective students are advised to contact the Office of Graduate Affairs for additional information about graduate scholarships. Additional information pertaining to scholarships for graduate students may also be found on the Graduate Scholarship Opportunities page or by visiting the webpage for the University's Office of Financial Aid.
Graduate Assistantships

Each academic year, Seton Hall offers a limited number of Graduate Assistantships. Assistantships pay full tuition for a certain number of credits per semester and provide a monthly stipend. In exchange, Graduate Assistants must work 20 hours per week and maintain a grade point average of 3.0 or better. Ordinarily, assistantships are automatically renewed for a second year provided both the student and supervisor are satisfied with the arrangements.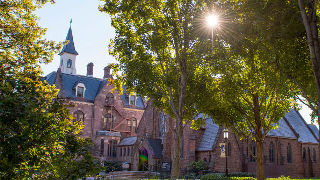 Ready to Apply?
Thank you for considering Seton Hall University for your graduate education. The first step toward joining Seton Hall's graduate community is applying to one of our 140+ graduate programs.