Maintaining Brand Identity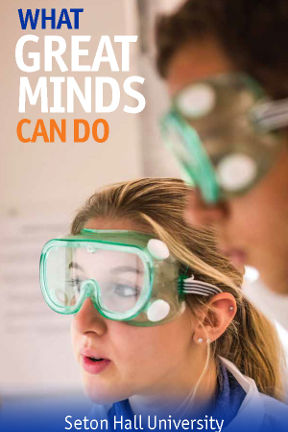 Specific resources — graphics standards manual, style and brand guides, and several publication templates — are available below.
The consistent use of logos and colors (graphic standards) and editorial messaging/style (University style) throughout all materials Seton Hall produces reinforces the ideals that Seton Hall stands for: academic excellence, Catholic mission and community.
A Message from Interim President Katia Passerini
Interim University President Katia Passerini, Ph.D., outlines the importance of maintaining Seton Hall's brand identity. View Interim President Passerini's message »
University Style
Use the University Style Guide to learn how to maintain proper style in communications that will be shared with the public. It details how to refer to buildings on campus, list alumni, donors and professors, and reviews common grammatical challenges.
View the University Style Guide »
Branding
Use the Seton Hall Brand Guide to learn more about University logos, symbols, colors, fonts and other visuals as well as messaging, positioning and our tagline.
Brand Messaging Guidelines
Boiler Plate
It's important that everyone who speaks or writes about Seton Hall is aware of our key message points. The list below includes many of the most critical "talking points" about the University, which can be used in communications you may be developing.
Boiler Plate for Press Releases »
PowerPoint Templates
Below are two Seton Hall University-approved PowerPoint templates already developed for your use. If you have questions about these templates or need specific templates for a school or college, please email [email protected].
University Stationery
The Department of Public Relations and Marketing recently updated Seton Hall's stationery system in order to provide greater consistency among all University communications and to align it with the University's new "What great minds can do" branding campaign. Reinforcing consistency in visual appearance and messaging in this way is considered a best practice in branding.
View an example of the stationery »
For information about ordering stationery, contact Procurement.
Email Signatures
One of the most visible ways we communicate with our audiences is through email. Consistent email identification strengthens the Seton Hall University brand and creates a unified University digital presence. Email signatures play a significant role when it comes to marketing, branding and maintaining a good relationship with our community and constituents. Learn More »