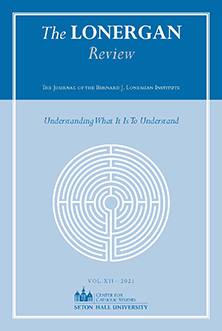 The Lonergan Review (TLR) is a scholarly journal of the Bernard J. Lonergan Institute at Seton Hall University. Its mission is to publish historical, interpretive, dialectical and critical research at the intersection of the various academic and professional disciplines and the thought of Bernard Lonergan, particularly his account of explicit self-knowledge and the interdisciplinary possibilities of his generalized empirical method. In doing so, it seeks to foster authentic human cultures of high ideals, open to religion, the Catholic intellectual tradition, and service of the poor. The first issue appeared in Fall 2009.
The Lonergan Review is published once a year. Subscriptions are available annually.
Our Team
Founding Editor
Msgr. Richard M. Liddy
Seton Hall University
Associate Editor
Johnathan Heaps
St.Edward's University
Editor
Gregory P. Floyd
Seton Hall University
Managing Editor
Gloria Garafulich-Grabois
Seton Hall University
Submission Information
The Lonergan Review is a peer-reviewed journal that uses a double-blind review process and is published once year. Please visit our Submission Guidelines page below for more information on how to submit your article.
Editorial Board

Andrew Beards
Allen Hall College, London, UK

Mark Miller 
University of San Francisco, CA

Cynthia Crysdale 
The University of the South, Sewanee, TN

Elizabeth Murray 
Loyola Marymount University, Los Angeles, CA

Richard Grallo
Metropolitan College, NY

Stephen Martin
Chestnut Hill College, Philadelphia, PA

Thomas Guarino
Seton Hall University, South Orange, NJ

John Ranieri
Seton Hall University, South Orange, NJ

Paul J. LaChance
DeSales University, Center Valley, PA

Anthony Sciglitano
Seton Hall University, South Orange, NJ

Patrick Manning
Seton Hall University, South Orange, NJ

Gerard Whelan, S.J.
Gregorian University, Rome, Italy
What's New at the Institute?
In June, over 40 Seton Hall faculty and administrators met for the 24th annual Faculty Summer Seminar: Ideas of a Catholic University: Then, Now, and into the Future facilitated by Dr. Kenneth Parker.