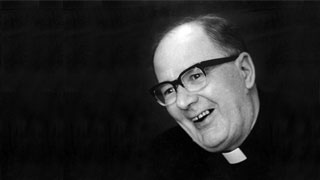 Bernard Joseph Francis Lonergan was born December 18, 1904 in the small town of Buckingham, Quebec, Canada. He studied at Loyola College in Montreal and on July 29, 1922, he entered the Society of Jesus. In subsequent years, he studied in England and in Rome and was ordained to the priesthood in Rome on July 25, 1936.
In his studies he was influenced by Plato, Augustine, Thomas Aquinas, Aristotle and the modern sciences. For a number of years he taught theology in Canada and then in Rome from 1953 to 1965. Subsequently, he taught in Canada, Harvard University and Boston College. Two early writings were on St. Thomas Aquinas and in 1956 he published his major work, Insight: A Study of Human Understanding. In 1972, he published his other major work, Method in Theology.
Lonergan had an early interest in understanding the worldwide economic instability caused by the depression and he went back to writing on economics towards the end of his life. Presently, his manuscripts on the circulation of the money have been published as part of the 27 volumes of The Collected Works of Bernard Lonergan. Bernard Lonergan died on November 26, 1984, at the Jesuit infirmary in Pickering, Ontario.
Collection of Lonergan's Key Works
More information