Bernard J. Lonergan Institute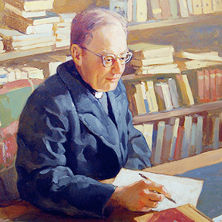 Welcome to the Bernard J. Lonergan Institute at Seton Hall University. The Institute is dedicated to the study of Bernard Lonergan's Generalized Empirical Method--GEM--and its application to contemporary culture. Such a method is based not only in the data of sense but also the data of consciousness. It seeks to understand not only the method of empirical sciences but also the methods of human studies and theology.
Bernard Lonergan, S.J., (1904-84) was a twentieth century Catholic philosopher and theologian whom Newsweek cited as among "the finest philosophical thinkers of the twentieth century." In November 2006, the Center for Catholic Studies at Seton Hall University launched the Bernard J. Lonergan Institute dedicated to the study of his ideas and their application in contemporary culture. The Institute is directed by Dr. Gregory P. Floyd and contains: all of Lonergan's published works; copies of his most significant unpublished writings; doctoral dissertations on Lonergan's work; the most significant secondary literature on Lonergan; and Lonergan's "memorabilia," including letters and photos housed in a display case.
In addition to ongoing research and scholarship, the Institute focuses on faculty development and sponsors graduate study, faculty and student reading groups, ongoing programs and the publication of the acclaimed journal, The Lonergan Review.
The Institute's current activities include:
Discover the Institute's work in promoting the work of the philosopher and theologian, Bernard J. Lonergan, S.J.