University Life (U-Life) Course Fosters Success for First-Year Students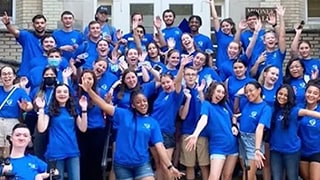 The Division of Student Services embraces Seton Hall's vision as a home for the mind, heart, and spirit; the goal is student success. Goal 3 of the University's Strategic Plan is to create a premier, mission-centered, and engaged student experience that is equitable and consistent enhances student support and retention, and prepares students to be impactful global citizens.

The Center for Academic Success (CAS), which provides academic advising support for incoming students, aligns with Goal 3 by helping
students clarify their educational and career goals, assisting them through their college transition, and encouraging them to develop a social network. The mission of CAS is to ensure that incoming first-year students experience holistic development - academically, socially, ethically, spiritually, emotionally, and personally. An essential program designed to reach these goals is the signature, award-winning, one-credit University Life (U-Life) course, taught to all incoming students by Student Success Advisors in the fall semester. This academic year, sixty-four sections of U-Life were taught to 1,511 incoming students.

The University Life (U-Life) course aims to introduce students to campus resources, provide academic instruction to improve reading, writing, technology, and analytical skills, help students build a sense of belonging, inclusion, and community, and connect them with opportunities to complete hours of community service.

Vaughn Calhoun, Ed.D., Assistant Vice President and Dean of the Center for Academic Success, is grateful for U-Life's positive impact on first-year students, sharing, "These courses are designed to help students transition smoothly into college life and offer a range of benefits critical to student success. In addition to academic skills, U-Life helps first-year students build social connections and a sense of community on campus. Some students may not be aware of the full range of academic and support services available. U-Life courses can help address this by providing information on tutoring, counseling, career services, and other community service opportunities. By helping students to access these resources early on, U-Life courses can help to prevent minor issues from escalating into major ones."

Nicholas Kimble, a Junior in the School of Diplomacy and International Relations, reflected on his student experience in U-Life as "incredible… the course gave me a better understanding of what Seton Hall offers and how I can excel as a student."

Fall course evaluations completed by first-year students also show positive results. Scores were averaged on a 6-point scale. Compared to last year, first-year students were more likely to indicate that U-Life helped them to transition academically (5.3 vs. 4.3) and socially (5.1 vs. 4.0) in their first semester. Additionally, more students indicated that U-Life increased their knowledge of resources on campus (5.6 vs. 4.6).

Josh Dornbos, Assistant Dean of the Center for Academic Success, noted, "One of the primary objectives of U-Life is to build community by providing opportunities for students to connect with each other and form relationships. Upon arrival at Seton Hall, many first-year students may feel overwhelmed or disconnected from their peers. U-Life courses can help address this by providing structured opportunities for students to get to know each other, form study groups, and engage in campus events and activities. These connections can be critical to building a sense of belonging and community on campus, positively impacting student retention and success."

Student Success Advisors are central to developing the first-year student experience in U-Life. At Seton Hall, Student Success Advisors span across campus and the Division of Student Services in CAS, Academic Support for Student-Athletes, Educational Opportunity Program, Pre-Med, Pre-Dent Plus Program, RISE-GEN1, and RISE-SSS (Resilience, Integrity, Scholarship, and Excellence). For the first time in six years, the fall-to-spring retention rate for first-time, full-time students hit a high of 94.9%, 1.6% higher than the previous year.

Timothy Fox, a Student Success Advisor in CAS, appreciates the supportive class environment, remarking, "The opportunity to provide a safe space and an abundance of resources for our new students makes teaching University Life worth it EVERY time I step into the classroom!"

CAS Student Success Advisor Evan Griffin echoed these sentiments, "I truly enjoyed teaching University Life in the Fall semester! It was an amazing opportunity to build healthy and wholesome relationships with my students and help them transition into the Pirate community at Seton Hall. Teaching University Life has also created a more enjoyable advising experience. I believe the environment we build in University Life provides our students a safe outlet to voice their ideas, thoughts, and feelings about life in[side] and outside the classroom."

Compared to last year, more students indicated (on a 5-point scale) the content of U-Life was relevant (4.5 vs. 4.4). Overall, students agreed their Student Success Advisor provided excellent instruction (4.7 vs. 4.5).

Students in U-Life are also assigned a peer advisor, a highly motivated student leader who helps them connect with classmates academically and socially, problem-solve, and become acquainted with campus resources. This year, CAS welcomed fifty peer advisors from all over the United States and from countries around the globe. Based on course evaluations, students agreed that Peer Advisors provided them support in their Seton Hall journey (5.7 on a 6-point scale). Peer advisors have also found assisting in the U-Life experience a rewarding experience.

Blake Harrsch, a peer advisor and senior majoring in Honors English and Philosophy, expressed, "Being in the University Life classroom and working as a peer advisor is an incomparable leadership experience because I get to cheer on my students as they come into their own being at Seton Hall. Whether I have helped them with something as significant as changing their major or simply assisting them in understanding a class syllabus, I am glad to play a role in their college experience and to be witness to their flourishing."

Ryan McMullin, a peer advisor majoring in Diplomacy & International Relations and Philosophy, added, "As someone who has been both a student and a peer advisor for University Life, I greatly appreciated the skills I learned and connections I made in my U-Life class my first semester, and have loved the opportunity to give back and create a positive space for first-year students."

Peer advisor and senior Kelsey Contreras, majoring in Special Education and Social and Behavioral Sciences, noted, "Seton Hall's University Life course greatly eased my nerves as I transitioned from a very small high school environment to a much larger college campus. The class required me to set academic and personal goals for myself and then taught me ways in which I could achieve those goals. It also familiarized me with a plethora of SHU resources and services I was completely unaware of beforehand, which I now utilize daily. U-Life gave me the tools and skillsets I needed to start building a successful college career. I am so thankful that now as a peer advisor, I am able to pass down everything U-Life taught me to [other] students."

For more information about the Center for Academic Success, Peer
Advisors, or U-Life, please contact Student Services at [email protected].
Categories: Education