Wednesday, December 21, 2022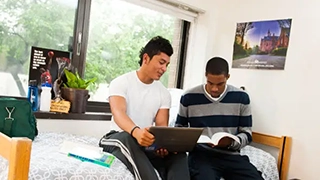 As one semester ends and we look toward another, the Housing and Residence Life (HRL) team took a moment to reflect on the last several months. In August, 1,060 incoming students and their families were welcomed to their new Home at the Hall. Thanks to volunteers from across the campus, the two-day move in was a success. Just two days later we also welcomed back 1,208 returning residential students  We are grateful to all the campus partners who made Move-In Week an enjoyable and memorable experience.
At the beginning of the semester, during Weeks of Welcome, HRL collaborated with the Office of Student Engagement to host Firepits & Friends for students to make new friends on campus. Additionally, Campus Ministry hosted pizza parties at Boland Hall each night as an additional way to bring students together. We continued the tradition of the First 56 Days programming, which concluded with Fall @ the Hall, co-hosted with Fraternity and Sorority Life. In late September, HRL collaborated with Athletics to host the "HRL Pack the Gym Challenge" to support the volleyball team. Over 100 residents were in attendance that night to support our Pirates!
In October, we hosted Fire Safety Month programming sponsored by a donation from the Aspiring Kindness Foundation. Resident Assistants and Residence Coordinators hosted engaging events which provided lifesaving education for over 150 residential students. We were also happy to assist with the Dare to Care Fair, hosted by the Great Minds Dare to Care program.
Through November and December, additional great programming opportunities were offered throughout the semester by Resident Assistants and Inter-Hall Council, which is a student-led residential programming board. Visit the Engage platform to view all campus events. Information continued being shared about housing selection for the 2023-24 academic year – more information will be available in early February. Now, as the semester winds down, HRL is preparing to close the residence halls for Winter Break.
This semester also saw several improvements to the residence halls, aligned with Goal 3 of the University's "Harvest Our Treasures" strategic plan. Most prominently, after a year of construction, the new and improved Boland Hall Lobby and Entrance also opened and has been embraced by the residential community. The Boland Hall Blessing was hosted on Thursday, September 8 and included a message and prayer from Father Colin Kay to "Be Brave." Additionally, the Complex (Neumann, Serra, and Cabrini Hall)'s multi-year furniture project was completed by new furniture being placed in Cabrini Hall. The Neumann Plus initiative, a trial for students to live in single rooms, was also launched this semester.
Finally, Housing & Residence Life would like to extend gratitude and congratulations for a great semester to everyone involved in our residential community. We look forward to welcoming you back to the residence halls in January!
Categories: Campus Life