About Us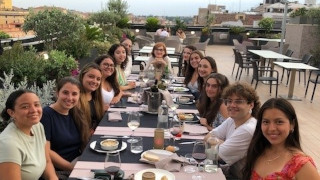 Students enjoy their final dinner on a Roman roof with Dr. Romani, Program Director.
The Italian Studies Program at Seton Hall offers an integrated, interdisciplinary approach to the study of Italy and its culture. We offer courses in Italian language, literature, history, civilization, cinema, theater, opera, and art history. Class sizes are small. Combined with other programs of study, these courses offer a broad and stimulating education that prepares today's students for careers in international business, diplomacy, commerce, teaching, and more while also providing excellent preparation for graduate school. Graduates of the program work in such fields as education, tourism, fashion, international business, etc.; others have gone on to the best law schools in the United States.
Degrees Offered
The Department of Languages, Literatures and Cultures provides a flexible and stimulating B.A. in Italian and two minors in Italian Language and Italian Studies. The program also offers classes in History, Literature, Art, and Music, which are supported by a first-rate collection of books in the Valente Collection of Walsh Library.
Events & Opportunities
Seton Hall is home to the Alberto Italian Studies Institute, which organizes cultural events devoted to the promotion of Italy and its culture. Movies, lectures, art shows, and concerts complement our programs of study, enriching and connecting students, their families, and the community around us with the study of one of the world's most fascinating civilizations. Numerous scholarships are available for students studying Italian. Students minoring or majoring in Italian are also afforded the opportunity to work in Italy immediately after graduation through a paid internship program.
More Information
Find out more! Contact the Italian Studies Advisor, Dr. Bénéteau, at: [email protected] or Dr. Romani at: [email protected] to discuss your interest. Arrivederci!
Meet the Faculty

David P. Bénéteau, Ph.D.

Professor of Italian, Department of Languages, Literatures and Cultures.
Ph.D., Italian and Medieval Studies, University of California, Berkeley, 1991.

William Connell, Ph.D.

Distinguished Joseph and Geraldine LaMotta Chair of Italian Studies and Professor, Department of History.
Ph.D., History and Medieval Studies, University of California, Berkeley, 1989.

Gabriella Romani, Ph.D.

Director of Italian Studies, and the Alberto Italian Studies Institute; Professor of Italian, Department of Languages, Literatures and Cultures.
Ph.D., Italian Literature, University of Pennsylvania, 2000