Diplomacy Student Explores Research and Career Interests Through the DiploLab
Wednesday, March 15th, 2023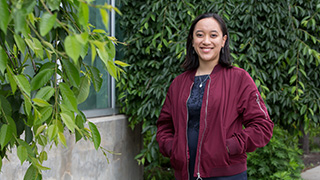 Diplomacy student and DiploLab researcher Jasmine DeLeon '24.
Jasmine DeLeon '24, is majoring in diplomacy and international relations and minoring in Catholic studies, journalism, and Asian studies. As a researcher in the DiploLab, a collaborative space where undergraduate students can explore their interests in international affairs, DeLeon coded separatist interactions happening in the Western Sahara and the Kurdistan region of Iraq.
In the DiploLab, DeLeon and her fellow students pair up with professors to develop on-going research projects and launch new ones. Professor Joseph Huddleston, Ph.D., who founded DiploLab in 2019, is a supportive mentor for students who participate in research projects and team projects.
DeLeon's experience as a researcher has helped her identify and explore the type of work she wants to pursue after graduation. "It was one of the reasons I was selected to intern at the Modern War Institute at U.S. Military Academy West Point during the spring 2022 semester," she said. DeLeon, whose research interests include women's rights, climate security, and the role of social media and journalism in global affairs, adds that the internship built on her experience as a National Security Fellow for Girl Security in the fall of 2021.
The School of Diplomacy offers many opportunities for students to develop journalism skills through The Global Current, a weekly podcast on international relations, and The Diplomatic Envoy, the foreign affairs newspaper published by undergraduates.
DeLeon is the executive producer at The Global Current, where she leads a team of 50 contributors. "It gives me an opportunity to combine my interests in journalism and security and international relations," DeLeon shares. "We use big picture thinking and tap into the expertise of professors and experts on issues, such as the crisis in Yemen."
An outgrowth of the DiploLab concept is the DataLab, an exciting new initiative launched in 2022 that aims to provide students with the skills and training necessary to conduct high-quality research projects. In collaboration with the University Libraries Data Services team, the DataLab is designed to support Seton Hall's faculty research initiatives and provide students with practical skills that are highly valued in today's job market.
Categories: Nation and World, Research