Diplomacy Student Secures Prestigious Girl Security Fellowship, Becomes First Diplomacy Student Invited to Leadership Conference at West Point
Thursday, November 18th, 2021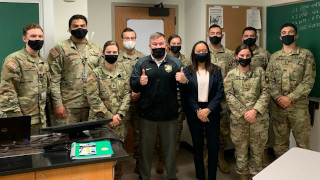 Jasmine DeLeon with Dr. Bryan Price and West Point Cadets
Jasmine DeLeon, a Sophomore, has become that first student from the School of Diplomacy to be invited to the McDonald Conference for Leaders of Character at West Point, which is being held from March 24th to the 27th. DeLeon's work as a member of the Girl Security National Security Fellowship was a key factor in her invitation to the prestigious conference, along with her participation in the Buccino Leadership Institute and her upcoming internship at West Point next semester.
Last Summer, DeLeon saw a call from Girl Security asking for candidates to apply to its National Security Fellows Program on LinkedIn. With no hesitation, DeLeon applied and became one of the 26 Fellows, selected from over 130 applications, to participate in the inaugural class of the Fellowship. The program itself lasts six months and tasks fellows to participate in skill-building workshops, engage in personal mentoring, and work together on a collaborative project. Right now, DeLeon is working with the Fellowship team to write a memo pertaining to climate change. This memo will be incorporated into the larger national security strategy that the entire cohort is working to produce.
DeLeon's experience as a member of the Fellowship has been unforgettable: "By combining my passions for women's rights and national security, becoming a Fellow has empowered me with more confidence and tools to pursue other opportunities in national security. I have also been really inspired by the women I have encountered in the program - the other fellows, the guest speakers, and the Girl Security team."
DeLeon spoke about several memorable information sessions held for Fellows, including the following. "We did a really great session on intelligence analysis, where we had the opportunity to engage with a woman working for an intelligence agency. I found our discussion and the exercise we did with her very valuable, because I am interested in that field, and insightful, because we discussed hard questions around ethical decision making."
The Fellowship opened several doors for her, one being the invitation to the McDonald Conference through The Buccino Leadership Institute. In addition, this Fellowship, along with the help of Professor Sara Moller, helped her get accepted to an internship at the Modern War Institute at West Point this Spring.
DeLeon expressed her gratitude for these opportunities and her professors who helped her pursue them and wants to pay it forward. For those interested in pursuing the Fellowship for its Spring 2022 program, DeLeon has this advice: "Do not be afraid of applying and putting yourself out there."
The Girl Security Fellowship will publish its National Security Strategy with DeLeon's help later this year.
Categories: Arts and Culture, Nation and World