Guests of the World Leaders Forum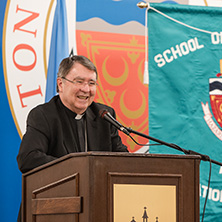 Christophe Pierre
Apostolic Nuncio
February 1, 2023
Archbishop Christophe Pierre, Apostolic Nuncio to the United States addressed the Seton Hall community, where he spoke about the diplomatic work of the Holy See and its unique position in international law and custom.
As Ambassador to the Holy See, the Apostolic Nuncio is the Vatican's representative to the Church in the United States and to the country's government.
View the video of Christophe Pierre's visit »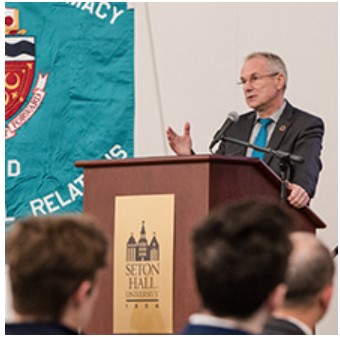 Csaba Kőrösi
President of the 77th United Nations General Assembly
January 26, 2023
Ambassador Csaba Kőrösi of Hungary gave a lecture at the new University Center regarding the U.N.'s prior accomplishments and future endeavors. Kőrösi showed the audience various socio-economic and earth system trends, which have all grown exponentially over the last century.
Despite some grim statistics of major conflicts, financial crisis, and global inflation, Kőrösi said there is a "ray of hope," as never in history has there been "such a fast development" in science and technologies. "We have to design a new world," he said, which cannot be "done on the battlefield" but with negotiations.
View the video of Csaba Kőrösi's visit »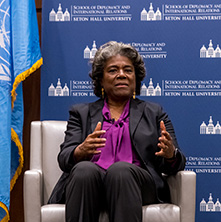 Linda Thomas-Greenfield
United States Ambassador to the United Nations
April 14, 2022
"We are reaching our sunset. You are reaching your rise." Those were the inspiring words of United States Ambassador to the United Nations Linda Thomas-Greenfield, as she concluded her address to an audience of students, faculty and alumni at Seton Hall.
Thomas-Greenfield shared many insights and notable experiences from her diplomatic career including her participation in UN Security Council meetings during the lead up to the war in Ukraine. Addressing a question one student posed concerning the roadblock created by Russia's veto power in the Security Council, the ambassador said that Russia cannot "veto our voices."
View the video of Linda Thomas-Greenfield's visit »
Miroslav Lajčák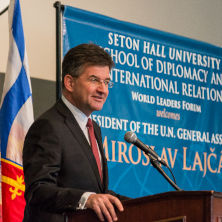 President of the 72nd Session of the United Nations, General Assembly
December 1, 2017
Visiting Seton Hall as the first stop on his college tour was Miroslav Lajčák, the President of the 72ndd Session of the United Nations General Assembly. He gave a public address on his vision of moving "Toward a New UN" where he outlined his plans for reform within the international organization.
Lajčák reminded the audience that "The UN was created for people. Its job is to help people who are striving for peace and a decent life, on a sustainable planet. It is one of the tasks of the General Assembly to make sure that their voices can still be heard."
View the video of Miroslav Lajčák's visit »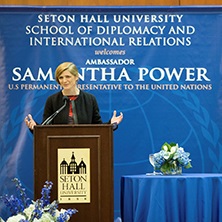 Samantha Power
U.S. Ambassador to the United Nations
January 13, 2016
Following President Barack Obama's final State of the Union Address, the U.S. Permanent Representative to the United Nations, Ambassador Samantha Power, came to Seton Hall to hold a town hall meeting with students on some of the foreign policy themes raised by our nation's commander in chief.
The discussion, moderated by David Ushery, news anchor at NBC 4 New York, concluded with a final comment by Power on the role of America's guiding principles in our foreign policy, "The world respects us not just for our arsenal; it respects us for our diversity and our openness and the way that we respect every faith. Compromising on those core values has never made America more secure - and it never will."
View the video of Samantha Power's visit »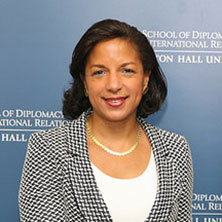 Susan Rice
U.S. National Security Advisor
April 30, 2015
The Donald M. Payne, Sr. Global Foundation Lecture Series and Seton Hall University's School of Diplomacy and International Relations World Leaders Forum hosted U.S. National Security Advisor Ambassador Susan E. Rice on Thursday, April 30 at Seton Hall University. Ambassador Rice described how the U.S. is responding to global crises in several regions, particularly in Africa, where Congressman Payne played a key role in advancing effective U.S. engagement.
Rice explained that the U.S. is working to prevent atrocities and strengthening accountability when they do occur. She referred to recent legislation, signed by President Obama, that will "expand the State Department's authority to offer cash rewards for information leading to the arrest or conviction of individuals accused of atrocities by any international tribunal. We are committed to working with our partners to bring to justice those who are responsible for such unconscionable crimes."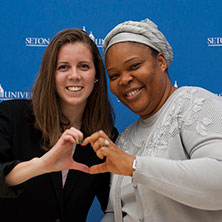 Leymah Gbowee
Liberian peace activist and Nobel Prize Laureate
November 20, 2014
Students and community members alike applauded Ms. Gbowee for the heroism she displayed as a leading actor in bringing about the end of Liberia's civil war. She reminded the audience that many of the issues that exist in Africa are also present in New Jersey, and urged all present to address issues locally before tackling them on a global level. In the face of discouragement, she offered hope, reminding students that even a small action can chip away at the largest issue and make a difference.
View the video of Leymah Gbowee's visit »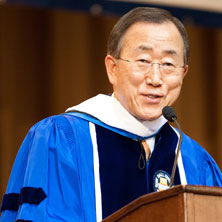 Ban Ki-moon
United Nations Secretary-General
November 22, 2010
Mr. Ban addressed members of the Seton Hall community as crucial partners in uniting nations. He called for students' help in delivering what the world needs, specifically citing the importance of combating climate change, reducing poverty and reinforcing human security.
Prior to his address, an honorary degree from Seton Hall was conferred upon the Secretary-General. He graciously received this degree "as a testament to this close ties between the United Nations and Seton Hall and the Whitehead School in particular."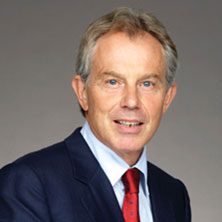 Tony Blair
Former Prime Minister of Great Britain and Northern Ireland
February 3, 2009
Throughout his candid and witty remarks, Mr. Blair stressed the importance of cooperation in addressing three of today's most pressing global challenges: the economy, the environment and security. "We must work together," he said, "not just in traditional alliances, but in ones that bring together the developed and developing world.
In addition to his comments on climate change and peace in the Middle East, Mr. Blair urged students to adopt a set of global values to include a belief in freedom, democracy, justice, and the power of community. By acting upon such values, Mr. Blair continued, we can drive our world forward.
View the video of Tony Blair's visit »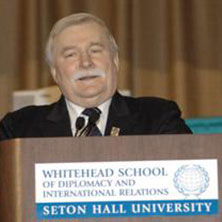 Lech Walesa
Former President of Poland
December 1, 2005
Solidarity leader and the first democratically-elected President of Poland, Lech Walesa, addressed Seton Hall students, staff, alumni and friends in commemoration of the 25th anniversary of Solidarity, a grassroots union movement that brought an end to the communist government's control of Poland. President Walesa received an honorary doctoral degree given to him in absentia more than 23 years ago.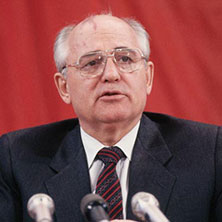 Mikhail Gorbachev
Former President of the Soviet Union
April 19, 2005
In his address, Mr. Gorbachev addressed the challenges that have faced democracy throughout history and the potential roadblocks to its future success. Mr. Gorbachev noted that even victories come with challenges, referring to the situation in Iraq and the fall of communism during the Cold War. He discussed the need to take advantage of globalization, consider the interests of other countries, and address the problems of the environment and international security, as ways of helping democracy progress into the future.
Shimon Peres
Former Prime Minister of Israel
September 29, 2004
Mr. Peres focused much of his address on modern issues facing the world, issues such as the struggle between religion and science, and war in the Middle East. "It is not a war against Muslims," he asserted. "It is a war for everybody, including the Muslims." Throughout his address, Mr. Peres highlighted the importance he places on peace. In recognition of his lifetime commitment to this cause, Seton Hall awarded him with an honorary doctoral degree.
John Hume
Member of the Northern Ireland Parliament
March 18, 2004
John Hume, Nobel Peace Prize laureate, parliament member and founder of Northern Ireland's Social Democratic and Labour Party, was presented with an honorary Doctor of Laws degree at Seton Hall University. In his address, Mr. Hume drew on his experiences in the Northern Ireland peace process. He began by telling students that his father once warned him never to get involved in politics because: "You can't beat the flag." Continuing, he described his personal reflections on the peace process over the last 30 years, including the Good Friday Peace Agreement, and the Hume-Adams talks.
To read a transcript of Mr. Hume's address, click here »
Mohammad Khatami
President of the Islamic Republic of Iran
November 9, 2001
The School of Diplomacy welcomed Iranian President Mohammad Khatami to campus as part of the culmination of the School's work on the UN Year of Dialogue Among Civilizations. It was President Khatami's first official U.S. visit. The School served as the coordinating Secretariat for the Dialogue Among Civilizations project, which culminated in a special session at the United Nations. President Khatami had called for a dialogue among civilizations since 1998, a year after being elected, urging that a new process be initiated to replace hostility and confrontation with discourse and understanding. Following President Khatami's proposal, the General Assembly unanimously proclaimed the year 2001 as the United Nation's Year of Dialogue Among Civilizations.
To read a transcript of the event, click here »
Gil Carlos Rodriguez Iglesias
President of the Court of Justice of the European Communities
November 5, 2001
Gil Carlos Rodríguez Iglesias spoke about European Union expansion and the prospects for global leadership. "The citizenship of the European Union," stated Rodriguez Iglesias, "is another building block for global citizenship, and not simply a redefinition of identities, of circles of inclusion and exclusion, of us and them." Mr. Rodríguez Iglesias pondered whether the tragic events of September 11 were meant to prevent the emergence of global citizenship, and then stressed the importance of the Dialogue Among Civilizations as a means of promoting global citizenship.
To read a transcript of Mr. Rodriguez's remarks, click here »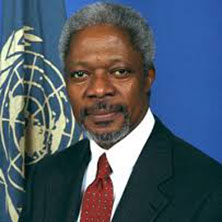 Kofi Annan
UN Secretary-General
February 5, 2001
Secretary-General Kofi Annan's address inaugurated the 2001 United Nations Year of Dialogue Among Civilizations and recognized the School of Diplomacy for it's work as the coordinating Secretariat for the project. In his address, Secretary-General Annan emphasized that "Alongside an infinite diversity of cultures, there does exist one global civilization based on shared values of tolerance and freedom. The diversity of human cultures is something to be celebrated, not feared."
Angelo Cardinal Sodano
Secretary of State of the Holy See
September 5, 2000
Vatican Secretary of State Angelo Cardinal Sodano addressed Seton Hall students on the Holy See's presence in international affairs. Cardinal Sodano affirmed, "The lofty religious aim that inspires the Holy See's involvement in the international community, [is] that world affairs be imbued with the Gospel of the dignity of the person and the family, the gospel of harmony and peace, and, moreover, the Gospel of truth, justice, and love."
To read a transcript of Cardinal Sodano's address, click here »
Her Royal Highness Maria Teresa
Grand Duchess of Luxembourg
October 19, 1999
Grand Duchess Maria Teresa of Luxembourg focused her remarks to the Seton Hall community on microlending. By extending small loans to help the world's poorest nations create their own employment, microlending brings economic opportunity to low-income peoples, especially women. The Grand Duchess confirmed for students her belief that, "the most fundamental change brought about by microcredit is the social change that happens to be connected with gender in many developing countries. The role of women is undergoing considerable change."
To read a transcript of HRH's remarks, click here »
Glafcos Clerides
President of the Republic of Cyprus
September 24, 1999
In his address, President Clerides reaffirmed for students a statement he had made the day prior at the UN on resolving internal discord within a divided Cyprus. He told students: "If there is going to be a breakthrough for the solution of the Cyprus division issue, it will greatly depend on the international community: what pressure it would exercise to bring the two sides to the negotiating table and to help them find a solution to the problem. It is of vital importance that the international community plays a role."
To read a transcript of President Clerides' remarks, click here »