Internships
The School of Diplomacy's unique academic internship program and focus on professional development are integral to its students' success. Internships provide students with the hands-on opportunity to apply the theory and concepts learned in class to the actual events and processes of international relations. Therefore, Undergraduate and Graduate students, except for Executive Masters and Graduate Certificate students, participate in internships for academic credit.
The Office of Internships and Career Development supports students' internships and career development with skills building workshops and individual and personalized career coaching that begins in the first year of the program. Learn more about the School's professional development programs and resources here.

The Office reaches out to internship host sites based on student interests and trends in the field. Our proximity to New York, presence in Washington, D.C., and our relationships with the United Nations and the UN community, businesses, and non-government organizations offer unparalleled opportunities for students to gain practical experience in their field of interest. Check out recent internship host sites here.

Interested in hosting an intern or recruiting on our campus? Contact: Dr. Catherine Ruby, Director of Internships and Career Development (973) 275-2203 or [email protected]
Student Reflections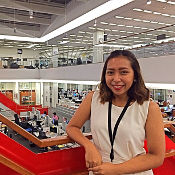 "The highlight of my internship with the New York Times was when I met Azam Ahmed, the bureau chief formerly in Kabul, Afghanistan and now in Mexico City…Talking to him made me want to want to be a foreign correspondent all the more."
– Francesca Regalado, The New York Times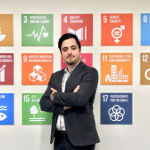 "My favorite part of my internship was learning about multinational corporations and their role in promoting the UN Sustainable Development Goals. It was exciting to see how businesses can align their operations and strategies with shared goals for a more sustainable world."
– Ahmet Yoruklu, UN Global Compact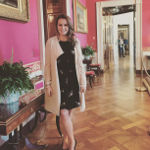 "While living in Washington, D.C., I participated in projects that extended throughout the world, all with the goal of ending extreme poverty. I gained experience in preparation and "war room" style operations for natural disasters and humanitarian crises, but my most rewarding experience was working for First Lady Michelle Obama's Let Girls Learn initiative. I assisted with strategic communications for her CNN documentary, coordinated with The White House, and even received a private tour!"
– Courtney Boland, United States Agency for International Development
Read more firsthand student reflections on their internship experiences.
Study and Intern in Washington D.C.
The School's Semester in Washington, D.C. program allows students to participate in internships while completing Diplomacy classes at the UN Foundation in Washington, D.C., located on Pennsylvania Avenue, steps away from the White House. Students maintain full-time student status and their eligibility for Seton Hall University student scholarships and loan assistance. The D.C. internships expose students to the workings of government, think tanks, embassies, offices of U.S. Congressmen and Senators, and non-governmental organizations that are unique to the U.S. capital.
"Where else could an undergraduate get a press pass, the chance to regularly attend congressional hearings on Capitol Hill, and the opportunity to write stories about controversial issues like the release of Guantanamo detainees?"
–Grace Chung on her internship at the foreign desk of McClatchy newspapers
For more information on the School of Diplomacy Semester in Washington, D.C. program, click here »
---
Amnesty International
BLJ Worldwide
Caritas Internationalis
CNN
Council on Foreign Relations
Federal Bureau of Investigation
Human Rights Watch
Interpol
Permanent Missions to the United States and United Nations
Thomson Reuters
United Nations Development Programme
UNICEF
U.S. Agency for International Development
U.S. Department of Commerce
Wilson Center
Internship Scholarships
Pursuing an internship out of state, or in another country, can be a tremendous personal and professional development opportunity. The School is pleased to offer financial assistance in the form of scholarships and fellowships to support students in pursuing the best fit experiences for their interests and goals. Scholarship funds are available, and have been awarded to support internship expenses in Washington, D.C., Peru, South Korea, Cameroon and more.
For details and applications, contact Robert Case, Director of Internships and Career Development at (973) 275-2203 or [email protected].
Diplomacy graduate student Karen Garrett left her hometown of Toronto, Canada, to pursue her goal of working at the United Nations.

Alumni and friends view Diplomacy internships as career defining moments. Thanks to their support, students can pursue the opportunity of their choice.
School of Diplomacy Scholarships

| | | | |
| --- | --- | --- | --- |
| Scholarship | Eligibility | Term & Award | Description |
| School of Diplomacy Internship Scholarship | Undergraduate and graduate students in the School of Diplomacy registered in one of the academic internship classes, DIPL 3111/4111/7111/7112. | Variable | This merit based grant supports travel and other expenses connected to the internship location. Awards are not intended to cover tuition or internship program fees and may not cover the total cost of internship expenses. |
| U.S. Peace Corps Partnership Program and Scholarship | Returned Peace Corps Volunteers who have been accepted into the M.A., Diplomacy and International Relations program. | 6 credits per academic year; renewable. | Returned Peace Corps Volunteers who are accepted as Paul D. Coverdell Fellows complete professional academic internships in underserved American communities in conjunction with their Master's degree in Diplomacy and International Relations coursework. This experience allows them to bring home, and expand upon, the skills they learned as Volunteers. Learn more about the School of Diplomacy Coverdell Fellows Program » |
| St. John Paul II Fellowship, Permanent Observer Mission of the Holy See to the UN | Full-time M.A. and B.S. Diplomacy students who are registered in academic internship classes, DIPL 3111/4111/7111/7112. | 4 month term and $10,000 scholarship award in the fall or spring semester via the St. John Paul II Initiative Fund. | Fellows intern full-time at the Mission of the Holy See to the United Nations and/or at the UN during a 4 month period in either the fall or spring semester. Students are required to be full-time students while completing the internship. Application deadlines are April 15 for fall positions and October 1 for spring positions. |
| Sergio Vieira de Mello Fellowship, Geneva Centre for the Democratic Control of Armed Forces (DCAF) | M.A. in Diplomacy and International Relations students registered in one academic internship class, DIPL 7111 or DIPL 7112. Fellowship will be awarded based on academic merit and progress in program. | Summer semester; awards are dependent upon availability of funding. | This fellowship will partially fund one Master of Arts Diplomacy student at an internship with the Geneva Centre for the Democratic Control of Armed Forces (DCAF). The scholarship will support travel and living expenses connected to the Geneva fellowship location. Awards are not intended to cover tuition or internship program fees, and may not cover the total cost of the internship expenses. The deadline for applications is March 15. |