"I believe that great leaders can come from anywhere. Leading people is about using empathy and having respect for others, so they empowered to be the best version of themselves."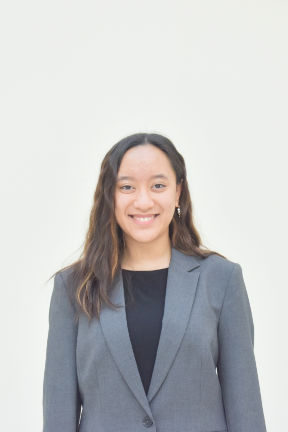 De Leon left her hometown in Bridgewater, New Jersey, with the mission to learn as much as she can about helping people and developing herself at Seton Hall University. Before spending her freshman year in the coronavirus pandemic, she made a promise to herself to never stop learning, persevere through unexpected challenges, and take advantage of the amazing opportunities Seton Hall has to offer. She aims to graduate with the skills and experience that will propel her into a life of service - where she can make the biggest impact.
Before attending Seton Hall, De Leon traveled alone on five foreign exchange programs to live with host families and learn the history, language, and culture of other countries. Her early exposure to foreign cultures propelled her passion for understanding complicated stories. This is why De Leon was drawn to both the Seton Hall's School of Diplomacy and International Relations and the University Honors Program.
At Seton Hall, De Leon has pursued many avenues for storytelling. She is the Associate Producer for The Global Current Podcast and a Research Assistant for Diplomacy Lab, a research and collaboration space for developing skills such as coding. She is also a writer for The Setonian and The Diplomatic Envoy, where she has published over eighteen articles. Her activities have grounded her in the value of collaborating with others and considering different perspectives.
The Buccino Leadership Institute has helped De Leon be a stronger and more adaptive leader. "In addition to the workshops and class we have, the supportive network of students and mentors makes Buccino a great environment for growth and professional development at Seton Hall." She is the Diplomacy Undergraduate Representative in the Buccino Student Council and an interviewer for the Undergraduate Leaders Podcast, where she interviewed a journalist who told her something that has greatly informed her leadership journey: "May your decisions be out of your hopes and not your fears."
When De Leon graduates, she aspires to especially empower women in her career and amplify voices often left out of important conversations. Jasmine looks forward to her last few years at Seton Hall to continue her journey of leading herself and leading others.
Seton Hall Career Highlights:
Competitively selected in the Buccino Leadership Institute
University Honors Program
Associate Producer, The Global Current Podcast
Research Assistant, Diplomacy Research Lab
Student Ambassador, School of Diplomacy
Member, Seton Hall Undergraduate Leaders Podcast
Writer, The Diplomatic Envoy
News Writer, The Setonian
National Security Fellow, Girl Security