7 Ways to Dare to Care for Your Mental Health This Fall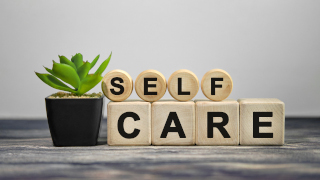 Self-care is an important part of overall student wellness. With Seton Hall University being granted $250,000 by the State of New Jersey to fund its Great Minds Dare to Care Initiative, there has never been a better time for Great Minds to begin their self-care journey.
Provided through the NJ Division of Mental Health and Addiction Services, the grant supports the University's ongoing efforts to change attitudes about mental health and mental illness, eliminate barriers to accessing mental health care and to foster a sense of community and caring. There are new resources available for you to explore and Seton Hall is there every step of the way as you begin your self-care journey!
7 Ways to Dare to Care for Your Mental Health This Fall
Stay connected – Go beyond text and social. Explore how and where to meet up with other Pirates virtually and in real life here. Check out Nod, an app that empowers students to build social connections, it's free to SHU students! Nod is an app that you can download to your phone. It is designed to give students the skills they need to build meaningful social connections. Download the Nod app today. Kognito is a suite of online simulations designed to build confidence in students when faced with challenges. Key simulations include Alcohol & Other Drugs Education, Sexual Misconduct Prevention, and At-Risk Mental Health for Students. Starting Fall 2021, you can log into PirateNet and select the Kognito/At-Risk App in order to access the online simulations.
Take care of your body – Maintain a healthy eating plan, practice good sleep hygiene, and follow @setonhall_rec to stay physically well. Sign up for an intramural sport this Fall. And don't hesitate to visit Health Services when you need care!
Take care of your mind – Practice relaxation and mindfulness of thoughts, feelings, and behavior. Explore CAPS' Self-Help Resources for a variety of wellness tools.
Give back – Making time for others in need improves our satisfaction and self-esteem. Find opportunities to volunteer your time and energy with the Division of Volunteer Efforts (DOVE) @setonhalldove.
Be flexible – Change up your routine and try out something new. Have an attitude of gratitude and note one thing you're grateful for each day.
Use your network – Financial, academic, and occupational wellness matter! Connect with Financial Aid, the Academic Resource Center, and The Career Center @careercentershu for resources.
Ask for help – Join Togetherall, an on-line peer-to-peer community. Connect anonymously on-line with peers in a safe space, moderated by licensed mental health practitioners, any time, any place. Register using your SHU student email by clicking here.
Support at Seton Hall
To explore confidential support options, call Counseling and Psychological Services (CAPS) at (973) 761-9500 &/or connect with Campus Ministry @shucampusministry.
Counseling and Psychological Services (CAPS) is located on the second floor of Mooney Hall, Room 27. Stop by or call us during regular business hours, Monday-Friday, 8:45 a.m.- 4:45 p.m. or call (973) 761-9500 to schedule an appointment.
24-HOUR Emergency Number
(973) 275-HELP (4357)
Use is limited to Seton Hall students who have a psychological emergency.
Categories: Campus Life