The Good Fight Against Opioid Use Disorder
Friday, February 24th, 2023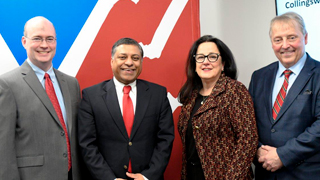 Left to right: Christopher Hanifin, Rahul Gupta, Kathleen Neville, Stanley Terlecky (Photo credit: Jacki Kronstedt)
On February 22, Director of the White House Office of National Drug Control Policy (ONDCP) Dr. Rahul Gupta held a critical conversation in roundtable format on the state and nation's opioid epidemic with Seton Hall University and Hackensack Meridian Health leaders, educators and students.
The event was part of Gupta's two-day New Jersey tour with state legislators, public health leaders and policy makers on the Administration's key actions to advance the Unity Agenda plan to combat the overdose epidemic, the National Drug Control Strategy, by providing high-impact policies and resources for treatment and life-saving care to people with substance use disorders (SUDs).
At the roundtable event, held at Volunteers of America offices in Collingswood, NJ, Gupta spoke with students and educators from the College of Nursing (CON), the School of Health and Medical Sciences (SHMS) and Hackensack Meridian Health (HMH). He discussed the historic legislation to eliminate the X-waiver — allowing more healthcare providers the immediate authority to prescribe buprenorphine to patients suffering from opioid use disorder (OUD). Students and faculty shared their personal experiences with the Medication-Assisted Treatment (MAT) training program, considered the gold standard. Seton Hall's College of Nursing and School of Health and Medical Sciences, and Hackensack Meridian Health were awarded two consecutive three-year federal grants from the Substance Abuse and Mental Health Service Administration (SAMHSA), a branch of the U.S. Department of Health and Human Services, to promote MAT program curriculum and training for healthcare students.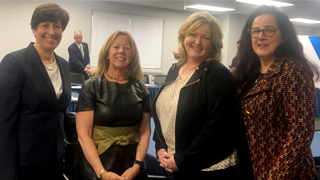 Left to right: Marie Foley, Beth Connolly, Kate Tarpey Balsamo, Kathleen Neville
"Our program is now in its fifth year and has expanded to include Monmouth University. By the time this grant ends, we will have trained 1,040 nurse practitioner, physician assistant and medical students," said Associate Dean Kathleen Neville, Ph.D., R.N., FAAN, of the College of Nursing and principal investigator of the SAMHSA Expanded Interprofessional Medication-Assisted Treatment Training Program.
"Our curriculum is compassionate, humanistic and nonjudgmental," Neville added. "Through the combined events of the interprofessional interactive sessions, modules and clinical experiences, students in all three programs become sensitized to the comprehensive issues and stigma associated with OUD patients."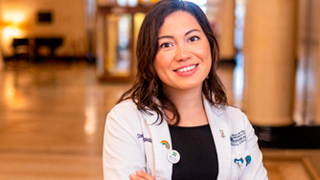 Physician Assistant student Daniela Arriagada (Photo credit: © John O'Boyle. Courtesy Seton Hall Magazine.)
Daniela Arriagada, a physician assistant student, did her MAT clinical hours at Broadway House for Continuing Care in Newark, NJ. "It has been enlightening to see how much of an impact I can make as a PA student," she shared with the roundtable. "It's incredible that Seton Hall University has given this opportunity to me. The training opened my eyes to how much opioid abuse has increased and impacted patients. It breaks my heart. At the same time, I'm very hopeful, because this program trains people like me who are passionate and can guide our patients to where they need to be, to sobriety and safety."
Kathryn (Kate) Tarpey Balsamo, M.S.N., A.P.N., C.P.N.P.-P.C., clinical affiliations coordinator in the College of Nursing, shared her own reflections as a MAT student in the post-master's Psychiatric Mental-Health Nurse Practitioner Program. "MAT training should be a requirement for all healthcare providers to speed patients' access to treatment and decrease the stigma surrounding OUDs on a national level," she said.
Dean Marie Foley, Ph.D., R.N., C.N.L., of the College of Nursing, said, "No longer are patients with OUDs seeking treatment primarily in a detox or rehab setting. In what can only be described as an epidemic, more and more are seen in a nurse practitioner's everyday practice. Prescribing medication assisted treatment for individuals with OUDs is a necessary skill for all nurse practitioners to have — and a lifeline for those who need it."
In agreement were SHMS colleagues Michael LaFountaine, Ed.D., ATC, FACSM, associate dean for academic affairs and research and a professor in the Department of Physical Therapy, and Christopher Hanifin, Ed.D., P.A.-C., department chair and an assistant professor in the Department of Physician Assistant. LaFountaine said, "This research initiative identifies an effective way to educate future health care workers to treat OUD on the front lines of the epidemic in New Jersey and throughout the country. The goal of all research is to have a meaningful impact and it often takes time for a tangible benefit to be realized. In this case, there is an immediate translation on the preparation of healthcare workers and their collective impact on the lives of people who are battling opioid addiction and their families."
"The Physician Assistant profession is very well suited to help address the opioid epidemic as it's designed to go places no one else wants to go and care for people no one else wants to care for," added Hanifin. "The lingering stigma associated with substance abuse unfortunately scares off some clinicians. We are producing extremely well-trained PAs that can help to fill the gap."
Stanley R. Terlecky, Ph.D., vice dean of the Hackensack Meridian School of Medicine, said, "We are thrilled to have the opportunity to share with Dr. Gupta our experience of building an interprofessional training program to combat substance abuse disorders. Our hope is to not only enable future healthcare providers to deliver effective, evidence-based interventions, but also to drive this conversation forward at a national level."
Dean Brian B. Shulman, Ph.D., CCC-SLP, ASHA Fellow, FASAHP, FNAP, of the School of Health and Medical Sciences shared, "The fact that this grant has gained the attention of the White House Office of National Drug Policy is a testament to the value of providing our students in the School of Health and Medical Sciences with a focus on interprofessional education and collaborative practice to meet current and future public health challenges."
After the event, Gupta tweeted: "Today, I heard from @SetonHall @HMHSchoolofMed medical and nursing school faculty and students about their outstanding efforts to focus more on substance use disorder in their curricula. … Medical providers are often the first touch point for people with SUD so it's important for every provider to learn to screen for and treat SUD. And thanks to @POTUS, every prescriber will now be able to treat opioid use disorder with buprenorphine."
The event was made possible by Seton Hall University alumna Beth Connolly '86/M.P.A. '88, assistant director of the Office of Public Health in the Office of National Drug Control Policy, who read Seton Hall magazine's cover story on the MAT curriculum.
Learn more about the College of Nursing graduate programs.
Learn more about the School of Health and Sciences graduate programs.
Categories: Health and Medicine