The Department of Housing and Residence Life provides a living, learning environment that fosters the academic and personal experience for residents, and helps them prepare for the rest of their lives.
Seton Hall is "home" to approximately 2,350 students - nearly 50 percent of the undergraduate population. There are six on-campus residence halls for undergraduate students and two apartment buildings, located in South Orange, for sophomores, juniors and seniors. All rooms are air conditioned and have single beds, desks, dresser and closet space.
Residence Hall Furniture Dimensions
Note: These dimensions do not apply to Turrell Manor or Ora Manor.
First Year Students
Boland Hall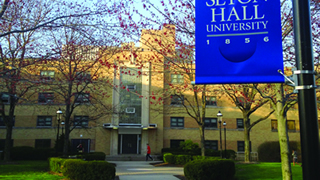 Boland Hall houses 702 first year students. North Boland is suite style so two rooms share a bathroom. South Boland is single gender by floor and is arranged so individual rooms share a community bathroom. View Boland Hall Floor Plans »
The Pirate's Cellar is located in the basement and is available for studying, television, pool games, programs, and other assorted activities.
Campus Ministry and the Division of Volunteer Efforts (DOVE) are housed in basement of Boland Hall.
The Residence Coordinator's office is located on the first floor. You can contact the Boland Hall front desk at (973)-761-9173.
Boland Hall Amenities
24-hour Security Desk
1 large laundry room
Vending machines located in the main lobby and in The Pirate's Cellar
Elevator
Air Conditioning
Fire Suppression System
Wireless Access
Study Room
Laundry Facilities
Aquinas Hall

Aquinas Hall is a co-ed residence hall housing approximately 490 students on four floors. Each suite houses 4-5 people of the same gender. Each room has its own heating/cooling unit. View Aquinas Hall Floor Plans »
Aquinas Hall Amenities
24-hour Security Desk
Social and study lounges are available for students on each of the three floors.
12 different lounges with one having a pool table, another a ping pong table and each lounge has a flat screen tv in it.
5 laundry rooms (one on each floor, 2 on the 4th floor) with 3 washers and 3 dryers in each laundry room.
Vending (soda and snacks) is located on the second floor and in the third floor yellow lounge. There is also a university printer at the 2nd floor yellow main lounge.
Aquinas TIRs are available to assist you with your schoolwork throughout the academic year.
You can contact the Aquinas Hall front desk at (973) 761-9566, 24 hours a day, during the academic year.
Neumann Hall
Please see the Complex amenities below for more information on Neumann Hall.
Upper Class Students
The Complex: Serra, Neumann and Cabrini Halls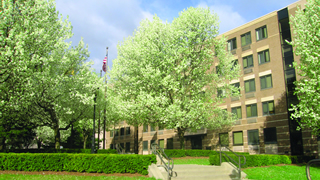 The Complex consists of Serra, Neumann, and Cabrini halls and houses approximately 550 upper-class students.
The Complex Amenities
24 hour security desk
Suite style rooms with 4 - 7 people of the same gender sharing 1 bathroom
Lounges on every floor
Vending machines, microwaves, and laundry rooms on the 1st floor of all buildings
Individually climate controlled rooms
Free internet access and local phone access
Free cable TV (including Showtime)
Fully furnished rooms complete with beds, desks, dressers, and wardrobes
Xavier Hall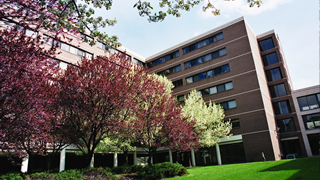 Xavier Hall houses nearly 520 upperclassmen and contains seven floors making it the tallest building on campus. From the top floors, you can catch a glimpse of New York City or see the leaves change color in the fall.
Xavier Hall Amenities
In room Heating/Cooling Unit
Quiet time in the Mother Seton Chapel of the Word
A Lounge on Every Floor
Three 24-hour Study Lounges
A Game Room with a Pool Table, Foosball Table & Big Screen TV! (3rd Floor)
Off-Campus Residence Halls
Ora Manor

Ora Manor houses approximately 103 upperclassmen in apartment-style housing that is owned and operated by Seton Hall University's Housing & Residence Life. Ora Manor is about 2 miles from the South Orange campus. In the heart of South Orange Village, Ora Manor is within walking distance of grocery stores, banks, restaurants, pharmacies, the South Orange Train Station, and the South Orange Performing Arts Center and Clearview Cinemas among others. Parking Services runs a shuttle called SHUFLY which offers transportation to and from campus in addition to all of the above locations and the area mall. SHUFLY is free to all resident students.

Ora Manor and Turrell Manor Residents' Guide »
Ora Manor Parking Application »
Ora Manor Amenities
2 bedroom /3 person furnished apartment (1 single, 1 double)

1 full Bathroom/Kitchen/Living Room

3 bedroom / 5 person furnished apartment (1 single, 2 doubles)

1 ½ Bathrooms/Kitchen/Living Room

Cable and Internet is included in the Ora Manor Housing Rate. Students may contact Verizon to connect landline phone service if they wish.
Furnishings include: Stove, Refrigerator, Kitchen Table/Chairs, and Living Room Sofa and Chairs
All apartments have wall-to-wall carpeting. Some apartments have a balcony/patio
Laundry facilities are a large community room with large screen television are located in the basement.
A Security Guard provides lobby presence from 10 p.m. - 6 a.m. every day and security completes routine daily walk-throughs.
Multiple security camera monitoring various areas of the building and parking lot.
Turrell Manor

Turrell Manor, located across South Orange Ave from main campus, is home to 83 upper class students. It is less than a five minute walk to the main campus. Consisting of apartment- style rooms, Turrell Manor has large windows and beautiful hardwood floors. The basement includes a laundry room, study area and a lounge with a large screen smart TV.

Ora Manor and Turrell Manor Residents' Guide »
Turrell Manor Amenities
Off-campus residence address: 384 Turrell Avenue, South Orange, NJ 07079
Apartment-style housing: One, two or three bedrooms options with a kitchen/kitchenette, bathroom with tub and living room.

Apartments are each uniquely structured. Attending the Turrell Open House is strongly encouraged in order to better understand Turrell Manor's distinct and individualized housing layout as well as to find your perfect fit.

Single occupancy apartment options available.
Apartment furnishings: bed, closet or wardrobe and dresser or wardrobe/dresser combo for each resident. Each apartment also includes a dining set, living room furniture, including a desk and desk chair.

Note: Due to apartment sizes and fire regulations, some apartments may not include a desk and desk chair for each resident. Please contact the Residence Coordinator with specific questions.

Full-size refrigerator and microwave provided in each apartment.
All amenities such as electricity, cable and internet included in Housing rate. No Ethernet ports available.
Residents are not required to purchase a meal plan but may opt for the any meal plan is they desire.
Smoking is not permitted inside of the apartment building or on the fire escapes.
Break housing available through registration as well as summer housing option available.