Housing Selection for the 2023-24 Academic Year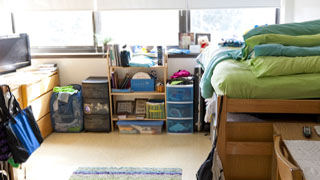 Return to your Home at the Hall! Living on campus is "Easy as 1, 2, 3, go!"
The Department of Housing and Residence Life (HRL) is excited to share information regarding returning student housing selection for the 2023-24 academic year.
There are three required steps for you to officially be eligible to receive a university housing assignment (the deadline for both steps is May 1):
1) Submit your $325.00 housing deposit. The housing deposit can be submitted via the Seton Hall Marketplace. The Marketplace is now open and accepting Returning Student Housing deposits. Your housing deposit is due on Monday, May 1.
2) Register for Fall 2023 classes. You will not be able to complete the next step until you are registered as a full-time student (at least 12 credits) for Fall 2023. View the Fall 2023 Undergraduate Registration Schedule to learn when you will be able to register for classes.
3) Complete your housing application. The "Returning Student Housing Application" will become available, via your eRezLife portal, approximately 24 hours after you register for classes for Fall 2023. The housing application is due on Monday, May 1.
Once those steps are completed, then you will receive an email with additional instructions for selecting your housing assignment. Additionally, you will receive your lottery selection timeslot on Tuesday, May 2.
The Housing Lottery Selection Period (Fill-a-Suite) will occur on Thursday, May 4 and Friday, May 5. The Post-Lottery Housing Selection Period will occur from Monday, May 8 through Wednesday, May 10.
Returning students may select into a housing assignment in any of our Upperclass Area residence halls: Cabrini Hall, Neumann Hall, Serra Hall, Ora Manor, Turrell Manor, and Xavier Hall. To see example room layouts, view the Residence Hall Virtual Room Tours!
HRL is excited to share that, based on positive feedback from our residential students, Neumann Hall will, once again, hold the "Neumann Plus" program where formerly double rooms are converted into single rooms and formerly triple rooms are converted into double rooms. There is a price difference for Neumann Plus spaces and furniture cannot be removed from the rooms.
Room rates for next academic year have not yet been announced. To view room rates for the current academic year, please visit the Tuition and Fees webpage.
Students with disabilities and/or medical conditions that require a specific type of housing assignment may request housing accommodations through Disability Support Services (DSS). DSS partners with the Department of Housing and Residence Life to coordinate appropriate and accessible room assignments based on documented need. The deadline to request housing accommodation through DSS is Saturday, March 11. More information regarding housing accommodations can be found on the DSS Housing Accommodations webpage.
For more information about returning student housing selection, please visit the Returning Student Housing Selection webpage.
Please contact [email protected] with any questions.
Categories: Campus Life