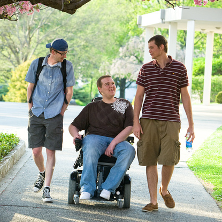 You can request services from Disability Support Services (DSS) as soon as you are admitted to Seton Hall University or, if you are already enrolled in classes, as soon as you are diagnosed with a disability. While we recommend starting this process before the beginning of the semester, you may request assistance at any time during the year. Please note, however, that accommodations are effective beginning on the date the professor is notified via the accommodation letter; accommodations are not retroactive.
To request disability support services you will need to do the following:
Complete a Self Identification form
Provide comprehensive information from a licensed professional who can document your disability. See the section below for the documentation guidelines specific to your disability.
Mail, fax, or hand-deliver these items to our office
Materials are reviewed by DSS staff in the order in which they are received. The review process may take 2-3 weeks. When the review process is complete, you will receive an e-mail from the DSS office stating the outcome of the review.
If you are determined to be eligible to receive services through DSS, you will be asked to make an appointment with a DSS administrator to discuss your accommodations. During this meeting, a DSS administrator will review your accommodation history, discuss your course load and create accommodation letters for the current term. The letters of accommodation will be available for pick-up in the DSS office. It is recommended you deliver the letters during your Professor's office hours in the beginning of the semester so that arrangements can be made to implement the accommodations in a timely way.
If your materials lack sufficient information to provide determination of disability status, you will be told what additional information is needed and advised how best to proceed.
Please refer to other pages of the DSS website for more information on: