Student Volunteers Educated Students to Help Get Out the Vote this November
Monday, January 25th, 2021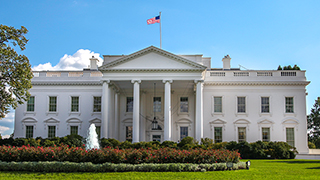 Some of the most important lessons for Diplomacy students that the Buccino Leadership Institute teaches at Seton Hall include the importance of service and civic engagement. This fall semester, students from the Diplomacy Cohort took these lessons from the classroom and implemented them in the real world. Since many students experienced this semester remotely, the Diplomacy Cohort created impactful projects able to be completed entirely online. One project taken up by the students was a brochure to provide information to college students about the November presidential election.
One of the most easily accessible ways to practice civic engagement is through voting. This year, with a historic election and restrictions due to Covid-19, student leaders felt that education about how and where to vote was crucial to share with other Seton Hall students. College students are among the demographics least likely to vote, but peer motivation is an effective way to reverse this trend. By adapting information about the primary elections and adding much-needed links about overcoming the challenges of voting during a pandemic, student leaders made an informative resource for college students. Included inside the brochure were links, statistics, dates, and other helpful information to help students ensure that their votes were counted, and their voices were heard. After the brochure was created, leaders utilized email to distribute the brochure to all Diplomacy students, and to hundreds of Seton Hall students with the assistance of School and Seton Hall leadership through Dean Halpin, the Diplomacy Cohort's Associate Director.
While the leadership students learned a lot from designing the information packet, it was Seton Hall students who benefitted most from the information in the packet. Emily Archibald, a Junior studying Diplomacy, was thankful for the information which helped her to vote for the first time: "Having all of these resources in one place was really helpful as a first-time voter. It helped me understand what was due on what dates and clearly gave resources to help with the 2020 specific questions I had." Emily, like many Seton Hall students, voted for the first time in 2020 and used the packet to find the date that her ballot was due to be mailed back to her home state of New York. Brady Black, a Junior Diplomacy student from Washington State, was thankful for the information for out of state students: "It was really helpful to have these resources put together, especially for someone who's voting out of state with an absentee ballot." Brady highlights the importance of these resources during a time when voting is different than it ever has been before.
This initiative was a success as the brochure informed students about a topic that is current, relevant, and important to the Seton Hall community, while helping student leaders further their understanding of civic engagement. After learning to lead themselves and others, students in the Buccino Institute learn to lead within their discipline during their Junior year. This year, the focus of the Juniors is to develop the tools necessary to build promising careers. Leaders who practice civic engagement convey a passion for service and strong character, attributes extremely useful for a career in International Relations. Wesley Kopituk, a Junior Diplomacy student who helped design the brochure, noted: "I enjoyed the opportunity to practice civic engagement at Seton Hall and remind my peers of how important it is to participate in the process of democracy here in the United States." Especially in a presidential election year, Diplomacy students like Wesley were excited to make an impact.
Categories: Nation and World