Diplomacy Professor and Students Publish Article on Western Sahara in Foreign Policy
Thursday, January 14th, 2021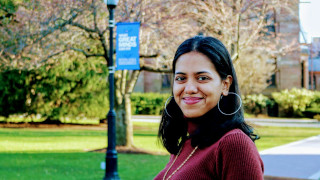 Harshana Ghoorhoo
Diplomacy Professor and Western Sahara expert R. Joseph Huddleston worked with undergraduate diplomacy students Harshana Ghoorhoo and Daniela Maquera Sardon to author the article "Biden Can Backtrack on Trump's Move in Western Sahara."
The article was published by Foreign Policy, the leading voice in international relations with an average of four million unique visits daily. "Biden Can Backtrack on Trump's Move in Western Sahara" was featured by Foreign Policy alongside an article on the same subject by former U.S. national security advisor and ambassador to the U.N. John Bolton.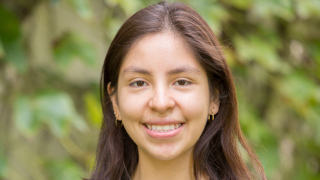 Daniela Maquera Sardon
At Seton Hall, Professor Huddleston is the founding director of the newly formed DiploLab. Patterned after undergraduate research labs at USC and Chapman University, the DiploLab is designed to foster what Huddleston has described as "a culture of curiosity."
The DiploLab is intended to function as a space in which students can collaborate on faculty-led research and also engage in their own research for academic and publication purposes.
Both co-authors, Ghoorhoo and Maquera Sardon, are research assistants in the DiploLab and have worked with Huddleston on his forthcoming book project, which will examine how self-determination movements, de facto states, and separatist governments use diplomacy to attain their goals of recognition and independence.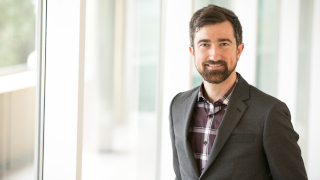 Professor Huddleston
In the article featured in Foreign Policy the authors looked at the self-determination movement of the Sahrawi people of Western Sahara and how it has been undermined by the Trump administration's recent recognition of Morocco (through a Tweet) as sovereign over the territory. This recognition is a reversal of U.S. policy and, as the authors note, contrary to international law in that "the Moroccan presence in Western Sahara is illegal—a verdict long affirmed by the United Nations and many international court decisions."
The Trump administration is said to have reversed the long-standing U.S. policy with regard to Moroccan sovereignty of the region in exchange for Morocco's "normalization of ties with Israel." The move is expected to have ramifications far beyond the region in question and reflects a broader change in policy by the U.S. under the Trump administration.
They write:
For the United States to uncritically take the side of an occupation—as a bargaining chip in tangential negotiations, and during active armed conflict, no less—demonstrates that U.S. foreign-policy now favors power over law and unilateral action over cooperation. If Morocco can normalize its status in the territory, why not the Russian government in Crimea? Why shouldn't the Turkish government invest heavily in integrating Northern Cyprus, as some in the territory now desire? And, in Israel—a benefactor of the U.S. decision—why not formally annex the West Bank? The legal parallels are many, and they point to a growing international toleration of territorial expansion.
Beyond the apparent policy implications for both the United States and other international actors, the authors paint a dire picture of the consequences of the United States' recognition of Morocco's sovereignty over the region.
Aside from a dangerous rupture in norms, it is worth exploring what U.S. recognition of Moroccan sovereignty over Western Sahara actually changes on the ground. Morocco has indeed secured a substantial diplomatic victory, and the United States has freed itself to sell drones to the Moroccan military for use in the ongoing conflict with the Polisario. Prior to Trump's maneuver, U.S. arms sales to Morocco have come with provisions specifying that they cannot to be used in Western Sahara—which was, until recently, considered a non-self-governing occupied territory. Now, Trump has cleared the way for the United States to directly arm and enable an occupying power—and, by extension, a brutal occupation.
The authors further note, however, that reversal of this unexpected reversal in long-standing policy in the waning days of the Trump administration is a "low hanging fruit" for the incoming Biden administration.
Rescinding Trump's move is a low-hanging fruit if the incoming Biden administration wants to signal its commitment to international law and multilateral cooperation. It would be practically costless for the United States to withdraw recognition of Moroccan sovereignty over Western Sahara; it can be done with the stroke of a pen. And Morocco had been making multi-billion dollar arms deals with Washington since well before its latest embrace of Rabat.
Foreign Policy, "Biden Can Backtrack on Trump's Move in Western Sahara"
For more information on the DiploLab students may contact Professor Huddleston at [email protected] or visit here. The Diplomacy Lab will be recruiting next year's cohort at the end of the Spring 2021 semester.
R. Joseph Huddleston is an Assistant Professor in the School of Diplomacy and International Relations. He specializes in diplomacy by rebel groups, dynamics in intrastate conflict, and research design. His current work focuses on diplomatic activities of secessionist, separatist, and self-determination movements, as well as how international actors help or hinder separatist groups apart from diplomatic recognition. He also studies how civilian populations respond to violence and economic disruption in civil war. He has published in The Wall Street Journal, Foreign Policy, Foreign Affairs, and the Journal of Peace Research, as well as in policy reports for government agencies.
Harshana Ghoorhoo is a junior majoring in Diplomacy and International Relations and two secondary majors in Modern Languages and Philosophy. In addition to being a research assistant for the DiploLab, Harshana is the International News Editor of the Diplomatic Envoy. She is working as a researcher for the think-tank Youth Center for Research. Harshana's interests include nuclear weapons, international security, and political rapprochement.
Daniela Maquera Sardon is a junior majoring in Diplomacy and International Relations and Economics. Daniela is a member of the Buccino Institute for Leadership Development and an executive board member of the Student Latinx Organization, Adelante. Her interests include economic development, Sino-American relations, and peace and conflict studies.
Categories: Education, Nation and World