International Education Week Spotlight: Jordanian Diplomacy Alumnus Starts Foundation for Youth Engagement in the Middle East
Wednesday, November 17th, 2021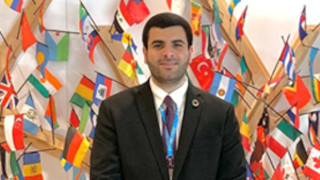 Originally from Jordan, Seton Hall University School of Diplomacy and International Relations Alumnus Mohanad Alsaid, recently started a foundation centered around youth engagement in Jordan. After graduation, Alsaid pursued his dream of starting a non-profit in the Middle East. The Alsaid Foundation aims to encourage innovation and full participation of youth in decision-making for economic, political, and social improvements around the globe.
The Alsaid Foundation strives to meet the growing needs of youth in Jordan and other countries in the Arab world. This includes education reform, creating policy dialogues, and providing career training that is completely free. One of the first projects the Foundation accomplished was bringing a digital library of 13,000 books to Jordan. This library is entirely free and provides an opportunity for youth to easily access books without having to be near a library.
"The main goal of this project is to provide the Arab world with free access to scholarly books for educational and research purposes." Alsaid said.
The Foundation also endeavors to involve youth in dialogues centered on finding solutions to global challenges. This past September, the Alsaid Foundation hosted a panel discussion with prominent members of society and governments to discuss the Yemen crisis. This discussion was part of the Alsaid Forum, which brings together "intellectuals, scientists, writers, poets, artists, politicians, economists, educators, and innovators, to discuss ideas and share their creations." said Alsaid. "This is all carried out during monthly lectures and seminars that would contribute to the enrichment of the political, educational and cultural life in Jordan as well as the Arab world."
Currently, Alsaid is working on a partnership with the U.S. Agency for International Development to establish internship opportunities in the United States for Jordanian students. Alsaid hopes to provide much needed opportunities for recent university graduates in Jordan. Additionally, he plans to host future panel discussions on the Israel-Palestine Peace Plan and crises in Syria and Lebanon.
Mohanad Alsaid graduated from the School of Diplomacy in 2020 with a Bachelor of Science degree in International Relations and minors in Arabic and Middle Eastern Studies. Alsaid is currently pursuing a Master's Degree in Education and Human Development from George Washington University and completed a certificate in Exercising Leadership: Foundational Principles at Harvard University. To learn more about the Alsaid Foundation, click here.
Categories: Education, Nation and World