Rockstar Greeter and Security Guard
Thursday, February 9th, 2023
Officer Mo Celebrated Globally and at The Hall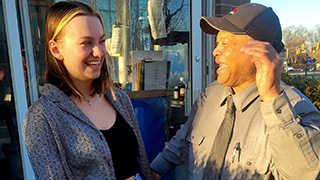 KNOW MORE Peer Educator Elyse Lanterman, a senior majoring in psychology, congratulates Officer Mo.
"It is so important, that first person that you see coming onto campus. That's your first impression and with Officer Mo it's a great one." Erin McCarron, Assistant Dean of Students
"Make it a great day!"
"I know you are going to shine bright today."
"Today is the best day because you are here."
"Let's make something special out of today, ok?"
"Smile. It's a beautiful day."
With the start of the new semester, Seton Hall peer educators were learning from a special trainer. Tom Krieglstein, TEDX Swift Kick award-winning founder and lead facilitator, speaks to student leaders on how to create a vibrant campus culture in which everyone feels welcome, connected and engaged.
"We thought bringing him to SHU would help our student leaders who have to engage in difficult conversations on sensitive topics, including sexual violence prevention, alcoholism and drug use, mental health wellbeing, and suicide prevention, better be able to do so, by first understanding what it takes to build genuine relationships with their peers," said McCarron.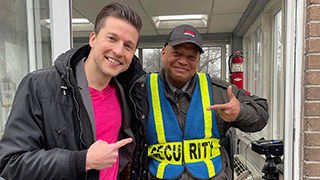 Tom Krieglstein recognizes Officer Mo's exceptional impact on this community. (Courtesy of Swift Kick)
Krieglstein has trained more than 850,000 world leaders through his award-winning connectivity program and recognized that he had experienced someone exceptional the moment he drove through the University's main gate. Without being prompted, the peer educators immediately shouted out Officer Rezin Morrison's name, who is affectionately known as Officer Mo.
"It was really an incredible moment when all the students started talking about Mo. The interesting part is a large majority of the Peer Educators, Dare to Care at least, are first year students who have only been at Seton Hall a semester and he's had that much of an impact," said McCarron.
Krieglstein recognized Mo's "rockstar" qualities and after the training, he spoke with Mo and featured him in his Swift Kick blog.
"Mo's name badge should not only say security guard, but also community greeter at Seton Hall University. He is a valuable asset to the community. Not only is he outstanding at his job as a security guard, but he also plays a crucial role in building a Culture of Connection™ within the community. He creates a welcoming and positive first impression, fosters a sense of community, provides a sense of safety and security, acts as an ambassador for the community, and helps build morale and positivity. Mo's role as a community greeter is vital for any community or organization, and his impact on the community cannot be understated."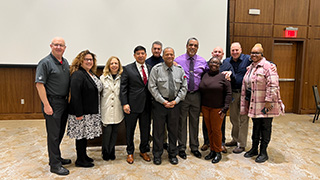 Celebrating Officer Morrison during the Student Services February Professional Development Meeting.
"We celebrated Officer Morrison at our February Divisional Professional Development meeting in Student Services, said Monica N. Burnette, Ph.D., Vice President. "We wanted to recognize his heartfelt caring nature and compassion for everyone he comes across, which makes him such a special colleague and a joy to everyone he interacts with on our campus."
Many members of the University community agreed, sharing personal anecdotes.
"We like to think of him as the face of Seton Hall," said E. Sergio Oliva, Associate Vice President/Director, Department of Public Safety. "When he works special events for us, so other than being a front gate guard, that's really where I interact with him. He's like the rockstar of the security officers. Everyone goes out of their way to say hello and greet him. I don't think I've ever seen him have a bad day."
James Johnson, Security Manager for Seton Hall, hired Mo in 2008, when as Securitas Account Manager, and his direct supervisor.
"I'd be at the front gate with him sometimes, and people would come through screaming his name, shouting, not being able to leave without getting his attention. I tell people all the time, if you're in a bad mood on your way here, but you don't smile after you leave that gate with him, then there's got to be something seriously wrong because he can bring out a smile on your very worst day," said Johnson, adding, "He's a very caring man. One time, I was driving him up South Orange Avenue. And there was this person of little means and misfortune and Officer Mo had me stop the car just to get out so he could give that person something to eat. His heart is so big and so full of love for other people. He's just a great guy, I don't know how else to put it."
Ibiyemi Adesanya, Manager of the Campus ID Office, shared: "Officer Morrison is an amazing asset to SHU! I happened to witness one of his interactions with a student. The young man came up to him to tell Officer Morrison about his grade on an exam and to tell him thank you for the encouraging words he spoke to him in the morning before the exam the day before."
"Officer Morrison is what Seton Hall is all about. When I pulled up for my job interview, he told me to park in my regular spot because the job was already mine. He made me feel so relaxed," said Nicole Paternoster, Director of the Academic Resource Center (ARC).
Said Audrey Butts, Assistant Director, Scheduling & Operations, "Officer Morrison is the absolute best! When I'm having a 'not-so-good' day, he manages to put a smile across my face with his positive vibes and kind and loving words! You can never tell if he is having a 'not-so-good' day because his mood is always positive and uplifting! What a wonderful person he is!"
Peter Iossa, Assistant Director, Administrative Services, shared: "Officer Morrison was the first person I met when I came to Seton Hall 10 years ago. My positive interaction with him still resonates with me today. We can only hope he remains a fixture here for others to encounter the same experience that I was fortunate to have had."
In agreement Khazema Rauf, Program Coordinator, Student Support Services, said, "He is incredible! He was here while I was in undergrad and sometimes on dreary exam days, he was the one person who truly got my day started and I am so happy he's still here while I'm an administrator now. I could not ask for anyone better to kick off my day!"
Perhaps saying it best, KNOW MORE Peer Educator Emily Guerrero, a College of Nursing junior, Class of 2024, said: "As long as I have been a student at Seton Hall, I have known Officer 'Mo' Morrison to always greet students, faculty, and guests of the university with a friendly smile and wave. Occasionally I roll down my window to say hello and he never lets you through without saying, 'Have a beautiful day!' Mo continuously shows our community that everyone can be a servant leader simply through small acts of kindness. I am so glad he is being recognized for his kind heart and dedication to our community. Thank you, Mo, for everything you do!"
Categories: Campus Life