Campus Inclusion and Community Space Opens in the University Center
Thursday, February 9th, 2023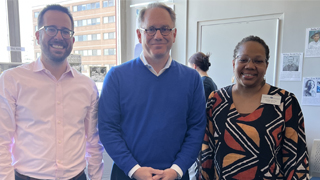 Jonathan Farina, Ph.D., President Joseph Nyre, and Ms. Ghana Hylton
On February 2, 2023, fifty Seton Hall community members, including Executive Cabinet, faculty, staff, administrators, and students, attended the opening of the new Campus Inclusion & Community (CIC) Space on the second floor of the University Center. Father Colin Kay, Vice President for Mission and Ministry, and Rev. Forrest Pritchett, Ph.D., the Interim Director of Africana Studies, provided a blessing for the space and offered words of hope and partnership.
"As a Catholic institution of higher education," Father Kay said, "Seton Hall University is committed to promoting human flourishing in all its beauty, richness, and depth. We are committed to the whole person and dedicated to the common good. Our University is a community among communities, welcoming to all, attentive to its members' needs and to the shared life made possible by its continued existence as a place of learning."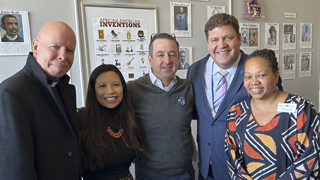 Father Colin Kay, Monica Burnette, Ph.D., Mr. Patrick Lyons. Mr. Jon Paparsenos, Ms. Ghana Hylton
Monica Burnette, Ph.D., Vice President of Student Services, and Professor Jonathan Farina, Ph.D., Interim Associate Provost for Undergraduate Education and Assessment and Professor of English, emceed the event. Together they shared how the space directly aligns with Goal 4 of the University's Strategic Plan, which calls us to advance diversity, equity, inclusion, and social justice efforts on campus and in the wider world. "One of our proposed activities in Goal 4 was establishing a welcoming and inviting campus inclusion space for our community," Burnette explained. "We are so happy our collective efforts have come to fruition – this learning space will promote inclusion, belonging, collegiality, and collaboration among students, faculty, staff and administrators with shared interests in advancing DEI on campus and beyond."
Prof. Farina added that "What makes this space special are the people, relationships, and work that it physically represents. This room represents a student body, a faculty, an administration, a priest community, a staff, and a University ready and willing to come together and collaborate to be more welcoming, more inclusive, more equitable, and more informed citizens, not just here, not just while students are working on their degrees, but everywhere we go."
The event provided an opportunity to share additional activities of the strategic plan, including community training and development, which aims to increase cultural competency, build strong and effective partnerships, eliminate silos and enhance relationships.
Dean Majid Whitney, Assistant Vice President and Dean of Campus Inclusion & Community, and Ms. Lori Brown, Esq., Chief Diversity, Equity & Compliance Officer, introduced several of the trainers who took part in the University's new partnership with the National Building Coalition Institute (NCBI), a nationally recognized award-winning program that provides best practices in DEI training. The NCBI training group will conduct events and programs this semester and in the upcoming academic year.
Also participating was Professor Mary Balkun, Ph.D., Chair of the Faculty Senate and Director of Faculty Development (CFD). Prof. Balkun provided updates on inclusion and antiracist pedagogy events sponsored by CFD, including the Diversity Reading Group and Film Series. CFD works with College & Schools deans and chairs to coordinate workshops that promote faculty belonging and collegiality and provide mentorship to encourage faculty career success and exceptional teaching.
As the event concluded, Burnette discussed the importance of creating a sustainable infrastructure for the Campus Inclusion & Community Space. Student Services restructured an existing position to support the organization, management, and coordination of the new CIC. Ms. Ghana Hylton, the new Director of the Campus Inclusion & Community Space and Business Affairs, will assume responsibility for additional DEI efforts to enhance cross-divisional partnerships and improve cross- campus communication.
"Campus Inclusion is more than just a room," Ms. Hylton said. "It is a visual manifestation of our mindset. Seton Hall is committed to true diversity, and that doesn't just happen overnight. It takes a concerted effort starting our Strategic Plan, DEI is more than something we talk about, it is also something we put time, resources and heart into. This room is just one of the ways in which that important stewardship shows up, and I'm honored that I was entrusted with a small part of the larger plan. I'm excited about the diversity programming, events and interactions that will take place in the Campus Inclusion Community Space and beyond. We have so much in store for you!"
Upcoming Campus Inclusion & Community (CIC) Space Events:
For more information about the Campus Inclusion & Community Space or DEI Committee, visit here or email [email protected].
Categories: Arts and Culture, Campus Life, Education, Faith and Service