Wednesday, February 17, 2021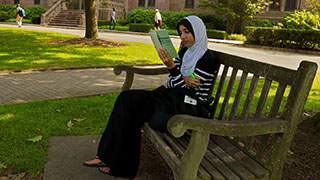 Since 2003, all incoming first-year students have read a common book over the summer to introduce them to academic and student life at Seton Hall. Formerly called the Summer Reading Program and now called SHU Reads!, the nominated text presents a shared experience intended to foster thoughtful discussion and engagement in University Life, the first-year English classes, and throughout the academic year.
In November 2020, as part of the University's strategic plan to build a culture of "One Seton Hall," the SHU Reads! Selection Committee called upon community members to nominate the first-year text. Previously nominated texts have been mindful of the Catholic values and mission, thought-provoking, accessible, and relevant to current events and societal themes. The Committee received more than 50 nominations from faculty, administrators, staff, undergraduate and graduate students. 
Ms. Hezal Patel, Assistant Dean of the Center for Academic Success, said, "I am thankful for the opportunity to work with so many wonderful colleagues on the SHU Reads! Committee to select the summer reading for the incoming class. I am glad this was a community effort and am proud of the selection we've made." 
Dr. Nancy Enright, Director of the University Core, adds, "It was a real pleasure serving on the SHU Reads! Committee. What a committed and collegial group of people!  [We] did a great job of eliciting opinions from [the group], encouraging a communal choice."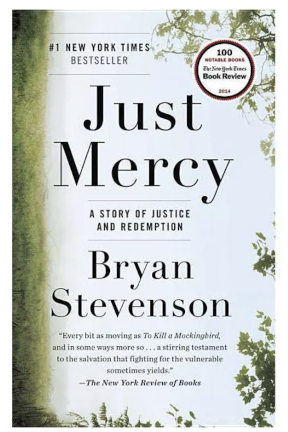 The University SHU Reads! Planning Committee is proud to announce the 2021 text selection-- Just Mercy: A Story of Justice and Redemption by Bryan Stevenson, the executive director of the Equal Justice Initiative (EJI) and professor at New York University Law School. Stevenson's book is the powerful true story of his life as a young lawyer when he founded EJI, a legal practice dedicated to promoting justice and defending the poor, mistreated, and wrongly condemned. Stevenson explains how the cases described in Just Mercy forever transformed his understanding of humanity and justice. Stevenson has received numerous awards, including the MacArthur Foundation "Genius" Prize, the NAACP William Robert Ming Advocacy Award, and the Martin Luther King Jr. Nonviolent Peace Prize. 
Dr. Kelly Shea, Associate Professor of English and Director of First-Year Writing, said, "The selection of Just Mercy: A Story of Justice and Redemption by Bryan Stevenson by the 2021 SHU Reads! Committee is an excellent one for so many reasons, not the least of which is that it documents the early work of the Equal Justice Initiative, an organization Stevenson created to help end mass incarceration, excessive punishment, and racial/economic injustice, and to protect human rights for the vulnerable. It is an important book for our time and for all time. As a committee member, I know that we had a number of laudable choices – this topped most peoples' lists, and I'm glad our collegial process allowed for consensus on it."
Dr. Nancy Enright adds, "Personally, I am thrilled with the selection, as Bryan Stevenson's book, Just Mercy, is a wonderful and timely choice – fitting in with Mission and DEI goals, and inspiring for young adults setting out on their career paths."  
Ms. Hezal Patel notes, "Just Mercy, by Bryan Stevenson will enable the campus community to engage in thought-provoking conversation. It is a timely selection for the new [incoming] class!"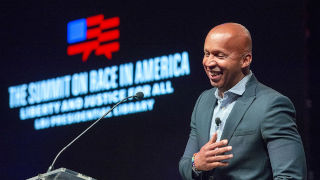 Bryan Stevenson
Just Mercy is the winner of several awards, including the Carnegie Medal for Excellence in Nonfiction, NAACP Image Award for Nonfiction, Books for a Better Life, An American Library Association Notable Book, and finalists for the Los Angeles Times Book Prize and Kirkus Reviews Prize.  
To celebrate the book selection, SAB will be screening Just Mercy again as part of their Free Flick Film Series, beginning at midnight on February 26 to 11:30 p.m. on February 27. Register here to review a link for a free screening.
If you have suggestions on engaging the Seton Hall community with this text through guest speakers, panels, lectures, film, or other ideas, please fill out our Suggestion Box.
Members of the SHU Reads! Committee
Dr. Monica Burnette (Assoc. Vice President & Chief of Staff, Student Services)
Dr. Shawna Cooper-Gibson (Vice President, Student Services)
Dr. Nancy Enright (Professor, English & Director of University Core)
Ms. Colleen Dallavalle (Assoc. Dean, Student Engagement)
Ms. Lisa Hawryluk (Academic Advisor, Center for Academic Success)
Msgr. Dennis Mahon, Ph.D. (Assoc. Professor, Communication) 
Ms. Bernadette McVey (Director, Office of the Provost)
Ms. Hezal Patel (Asst. Dean, Center for Academic Success)
Ms. Jeel Patel (Sophomore, College of Arts & Sciences)
Mr. Gerard Shea (Librarian, University Libraries)
Dr. Kelly Shea (Assoc. Professor, English & Director of First-Year Writing)
Mr. Majid Whitney (Asst. Vice President, Sr. Assoc. Dean, Student Services). 
Categories: Campus Life , Education