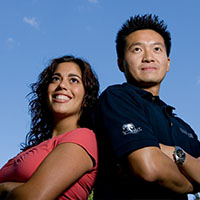 The Seton Hall University community is a very special educational and spiritual environment. Seton Hall has been enriching the minds, hearts and spirits of students since 1856. As educators at a Catholic university, the professionals of the Division of Student Services take pride in our commitment to student development, social consciousness, leadership and service. Our statement of Values Mission and Vision will tell you who we are and what we do in a very concise way.
The Division of Student Services is comprised of several departments that provide programs and services that will enrich your experience and support your ability to succeed at Seton Hall and beyond. Whether you want to get involved in a new club or need help to do your best in a challenging course, we have people who are here to help you.
However, in spite of all that the Division can and does do for students, please don't forget your responsibility to get involved. Both you and the community will thrive because of it. Active participation in campus life will help you to get all that you can out of your Seton Hall education, and it is your chance to contribute to a community that is rooted in values such as respect for the individual and service for the common good.