Stay Connected, Stay Engaged....Here's How
Wednesday, March 25th, 2020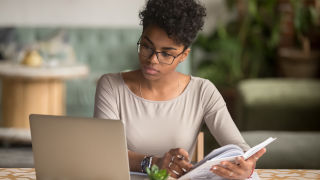 Looking to pick up a new skill, or hone in on your inner artist? Maybe you're looking for some tools to help you relax or switch-up your at-home work out routine? We've compiled a list of ideas for how you can entertain yourself, connect with friends and family, and learn something new!
1. Connect with Your Friends and Family Virtually
Coordinate your next movie watch, or binge on a great TV series with friends online. You can use Netflix Party, Scener or Kast to watch your favorite shows as a group.
You can also pick up your phone, or use Microsoft Teams, Zoom, Skype, Google Hangouts to give your family and friends a call. Spending some quality virtual time with the ones you love is a great way feel connected, show others you are thinking about them, and catch up all while practicing social distancing.
2. Take A Drawing or Cooking Class
Let your creativity soar! Ever wanted to learn how to draw your favorite comic book character or learn a new recipe? Take this time to check out some drawing classes from a famous illustrator or download free coloring templates (for children or adults) offered by Crayola. Milkstreet is offering online cooking classes for free through April.
3. Check-In on Your Career Next Steps
Need to update your resume, schedule a virtual appointment with a Career Advisor, or finally create that LinkedIn Profile? Now's the time!
The Career Center has compiled a list of helpful resources on writing resumes and cover letters. Now is a great time to sit down and gather your materials to apply for that internship you've been meaning to get started on. Log-onto Navigator to search for internships, full-time jobs, volunteer, and part time opportunities.
It is never too late or too early to create your very own LinkedIn profile. Build your professional network by adding valuable internship, student involvement or volunteer experience to your profile to get started. Once you create a profile you can access LinkedIn Learning for free, via PirateNet. LinkedIn Learning provides a customized learning experience that features instructional content relevant to your professional interests and goals.
4. Practice Self-Care
Focusing on limiting stress and staying active is important to your health and wellbeing. Here are some of the ways you can take care of your mind, body and spirit during this time. If you are looking for more help, we would encourage you to visit Counseling and Psychological Services, or view this list of resources and tools in dealing with stress and anxiety.
Taking Care of our Body
Taking Care of our Spirit
Taking Care of our Minds
5. Tour Historic Sites and Museums, Virtually
Want to see the wonders of the world from the comfort of your home? Check out these tours of historic sites, global attractions, and view famous pieces of art. Visit Google's Art and Culture Page to travel without leaving your house. Take a moment to bring that artwork or sculpture to life by visiting one of the 14 world class museums which are also offering virtual tours.
6. Discover a New Podcast
Put on some headphones, kick back and relax while you discover a new podcast. Check out the below list to see what you may be interested in.
Here, at Seton Hall, we have podcast options for our fellow Pirates too. Alumni Relations' Pirate's Eye Podcast interviews proud Pirates on their latest accomplishments and career paths. The Buccino Leadership Institute's Undergraduate Student Leadership Podcast features leaders at all levels (CEOs, mid-career, and college-age students) from a host of industries and disciplines who dish out practical advice on how to lead in their respective fields!
7. Turn On Some Music and DANCE!
Research has shown that listening to music can reduce anxiety, blood pressure, and pain as well as improve sleep quality, mood, mental alertness, and memory. Listen to your favorite artist or take a listen at once of these curated quarantine playlists.
Rita Wilson's Curated Playlist "Quarantunes"
Best Playlists Curated by Pandora
8. Watch a TED Talk
TED Talks are a great way to learn something new, learn more about a topic you are already interested in, find new ways of thinking, communicating, all while learning from experts in different fields. Check out this list of curated TED Talks and expand your horizons.
9. Attend a Webinar
Seton Hall University invites all alumni, parents and friends to take part in a webinar series covering a variety of topics delivered by professionals, alumni, administrators, and more. Learn more about a topic that interests you! All sessions are free for members of the Seton Hall University community.
10. #TogetherAtHome Concert Series
Artists such as Chris Martin, from Coldplay, and John Legend, are using this time to perform music for people from their own homes. Many of the performances take place on Instagram Live and can be viewed afterwards via Twitter.
Check out this LA Times article about concert streaming services. The Metropolitan Opera is also offering free recorded performances.
11. Stay Connected with Seton Hall
You can still stay up-to-date on the latest Seton Hall news by viewing the The Setonian's Live Updates Page. Read articles in full on the Setonian's Website and be sure to follow @SetonHall and @Hallstudents to keep up with announcements.
With the University's decision to move to online classes, we wanted to make sure that student leaders and organizations are equipped with the tools needed to be successful while transitioning operations online. Check out these resources for keeping your organization engaged.
12. Be a Servant Leader- It's what great minds do!
As President Nyre said, "We all chose Seton Hall because of its ability to change destinations and transform lives... [we] are indeed servant leadership in action, as [we] collectively work toward the greater good of our students, one another, Seton Hall, and the community." We are in this together. Read The Washington Post's article on how you can help during this time.
While in-person volunteer opportunities are temporarily on hold, DOVE has explored a number of ways for volunteers to give of their time remotely.
Whether it's donating to your local food pantry, providing one-on-one virtual tutoring for middle school students, supporting small business, or seeing what opportunities Seton Hall has for you to support our community, we all are here to continue to support the community, the world, and our fellow pirates!
Categories: Arts and Culture, Campus Life