Picciano Family Spotlight
Fred and Donna Picciano of Carlsbad, CA, share why their daughter, Lana, chose Seton Hall and why they are doing everything they can to make the University even better — from hosting admitted student and send-off receptions to volunteering at high school college fairs.
What factors led to Lana choosing Seton Hall?
It was courageous and very bold and of Lana Marie to move more than 3000 miles away from the security of home. She was attracted to Seton Hall University because of "opportunity." Specifically, academic opportunity, career opportunity and social opportunity. Seton Hall's proximity to New York City, the cultural hub of the world, also provides opportunity.
The University's Catholicity also made an impression on our daughter. While we had always hoped she would attend a Catholic university, we never imposed our wishes and always intended for it to be Lana's choice.
Why is it important for you to be involved with Seton Hall?
We are involved because of our daughter and because it makes us feel closer to her. We love our daughter very much and want her to have a great college experience. Also, we are involved because of the University's mission. We encourage everyone to visit the website and further explore the Catholic Mission section; it's very powerful and increased our desire to volunteer and support Seton Hall.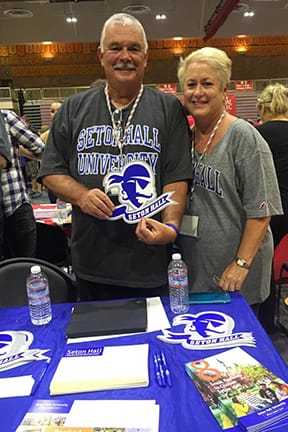 You've volunteered to host a few receptions and also participated in a college fair, what are some of the things about Seton Hall you share with other parents?
When we mention to parents that we are representing Seton Hall because our daughter attends the University, the parents are engaged and receptive. They know we can better understand their perspective versus if we are an alum or an admissions officer. In addition, we understand and in many cases, can better address their questions and concerns. We share that they won't be alone and will be part of a growing SHU/West Coast community.
Now that Lana is a sophomore, what has she shared about her experiences at Seton Hall?
Lana Marie is in the CHAMPS Program for communication students. It's a program primarily for juniors, and Lana is one of only three sophomores selected to participate this year. She has already had several positive experiences with her mentor from Pfizer. He has expanded her understanding of the field and what she will be able to do with her communication degree. Also, she recently interned at the Paper Mill Playhouse, which allowed her to combine her interest in public relations with her love of the theatre.
At Seton Hall, she's not just a number. We know from personal experience that the dean knows Lana Marie by name and has had personal interactions with our daughter. The new College of Human Development, Culture, and Media means our daughter is getting two educations. One that is academic and one that focuses on real-world cultural opportunities. That's big and just as important as the academic.
Anything else, you'd like to share?
We are all in. The college years are the most important years of our daughter's life, and we love it when Lana Marie tells us she made the right choice by attending Seton Hall.