Parents Leadership Council
Welcome Pirate Parents
From the Chairs of the Parents Leadership Council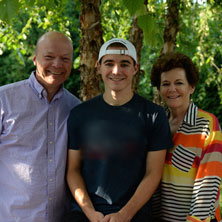 When our son was accepted to Seton Hall, we never realized that there was an organization, such as the Parents Leadership Council, that would allow us to be so involved with the University, our child's education, and helping other parents be a part of their student's experiences.
Parents Leadership Council members are parents of current and former Seton Hall students who work together to further the mission of Seton Hall University.
Appointed by Seton Hall University, PLC members are committed to:
supporting Seton Hall University with a minimum annual gift of $2,500 to the Parents Fund for Seton Hall, which directly benefits current students through an enhanced experience;
communicating with current parents about the importance of giving to the Parents Fund for Seton Hall;
leading and recruiting parent volunteers;
hosting receptions, summer send-offs and other parent events;
calling and meeting with parents from the same geographic area to support development and admission goals; and
attending meetings regularly and communicating feedback and ideas to Seton Hall's senior administration.
The Parents Leadership Council gave us an opportunity to support our son's education in a way we never have before. We have met faculty and staff, as well as great parents of students interested in being part of the Seton Hall family and all working hard to provide our students with educational and long-term career opportunities.
If you want to become a PLC member, please complete the application on this page. Help us support Seton Hall University and its foremost objective, the education of our children through a broad array of excellent academic and professional programs. If you have any questions, please call Sandro Tejada, director of SHU Parents Program at 973-378-2635 or email him at [email protected]
Sincerely,
Ave Bie and Terry Grosenheider
Chairs, Parents Leadership Council
Parents of Walter '16
Join the Parents Leadership Council
If you would like to learn more about the Parents Leadership Council or you are interested in joining, please complete the form below.