Pirate Parent Ambassador Program
What is the Pirate Parent Ambassador Program?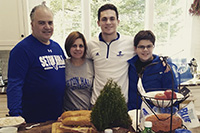 The Pirate Parent Ambassador Program is an opportunity for parents and family members of current students and recent alumni to get involved at Seton Hall University by reaching out to both prospective and current students and families, locally and regionally. Ambassadors share their knowledge and offer support as well as assist with recruitment, involvement, retention, and philanthropic support.
Why the Pirate Parent Ambassador Program?
Research has shown that "family" in the form of parental involvement is one of the best predictors for postsecondary educational aspirations and student success in college (McCarron & Inkelas, 2006). It is important that the University partners with parents from the very beginning of the college student experience — when students are applying for college until they graduate and even beyond. Similar programs exist on various university and college campuses and have been very successful.
As an ambassador, you will become increasingly knowledgeable about Seton Hall (i.e. campus resources, top stories, etc.). This knowledge will equip you to serve as mentors to other parents and families and equip you to better support your student. Pirate Parent Ambassadors are also the first to know about upcoming Seton Hall events.
With over 40 percent of Seton Hall's incoming class coming from outside of New Jersey, the Pirate Parent Ambassador Program provides an opportunity for ALL of our parents to get involved — no matter where your hometown is!
Meet Parent Ambassadors Fred and Donna Picciano of Carlsbad, CA.
What is the level of commitment to be involved in the Pirate Parent Ambassador Program?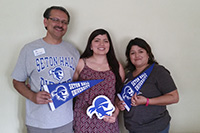 Ambassadors must commit to a one-year renewable term and will include attending some meetings, training and volunteering for events. In the future, you may be invited to serve on the Parents Leadership Council (PLC).
We know that our families are very busy, so the level of participation is as much or as little as you can do. There are a variety of ways to help and opportunities exist on campus at Seton Hall as well as locally or regionally near you. Examples of activities include:
Conducting welcome calls to new Seton Hall families
Attending admissions receptions
Participating on parent panels
Assisting with Summer Send-Offs and Move-In Day
Volunteering at Seton Hall Weekend, Parent Recognition Brunch and Commencement
Helping to publicize and support events
Hosting events at your home to engage families with the university
Pirate Parent Ambassadors also set an example for all Seton Hall families. The university strives for 100 percent yearly participation in the Parents Fund campaign. There is no set giving level — we encourage each member to make a gift commensurate of your family's resources. When possible, we invite families to make an annual leadership gift of $2,500 and become a member of the Parents Leadership Council. In appreciation, you will receive recognition at our Parents Recognition Brunch in May and The Bayley Society Celebration of Philanthropy Cocktail Reception in October.
Pirate Parent Ambassadors in Your Area
Pirate Ambassadors

| | |
| --- | --- |
| Rossy Azcona, P19 | Nutley, NJ |
| Catherine Boccard, P18 | East Hanover, NJ |
| Leigh Chapman, P19 | Aberdeen, NJ |
| Kristine Coniglio, P19 | Mantua, NJ |
| Marycatherine Cunningham, P12 | Dayton, ME |
| Todd Diamond, P17 | Simsbury, CT |
| Lynnette Easter, P17 | Washington, DC |
| Krista Elwell, P19 | East Windsor, NJ |
| Marlyn Escalona, P18 | Nutley, NJ |
| Nancy Garriga, P18 | Jersey City, NJ |
| Carolyn Greenwood, P19 | Brooklyn, NY |
| Lauren Johnson, P18 | Bayonne, NJ |
| Irmina Jose, P19 | Green Brook, NJ |
| Natalie Koutsokoumnis, P20 | Kinnelon, NJ |
| Elizabeth Kubeck, P19 | Flemington, NJ |
| Denise Kwityn, P18 | Downers Grove, IL |
| Patty Lewis Roenau, P17 | Clifton, NJ |
| Thomas Mangi, P17 | Commack, NY |
| Susan Minor, P20 | Franklin, TN |
| Trina Moumblow, P17 | Staten Island, NY |
| Betty Munoz, P13, 17 | Chicago, IL |
| Sharon Muzeni '86, P19 | Whippany, NJ |
| Beth and Alvin Najera, P18 | Laguna Hills, CA |
| Carol Nemetz, P17 | Annandale, NJ |
| Jennie Nelson, P18 | Pittsgrove, NJ |
| Paul Patel, P19 | Belle Mead, NJ |
| Margo Peters, P21 | Warwick, RI |
| Frederick & Donna Picciano, P18 | Carlsbad, CA |
| Marie-Antoine Pierre-Louis, P17 | Durham, NC |
| Jessica Rodriques, P19 | Kearny, NJ |
| Elijah Rodriguez, P16, 17,19 | Jackson, NJ |
| Christine Rosa, P19 | |
| Sylvia San Miguel, P20 | San Ramon, CA |
| Purvi Shah, P18 | Edison, NJ |
| Nancy Smith, P19 | Manlius, NY |
| Robert Yeckley, P18 | Medford, NJ |
Sign up to be a Pirate Parent Ambassador