Ivana Bertuzzelli '90 and Gianni Bertuzzelli, son Marcello '21
Jupiter, FL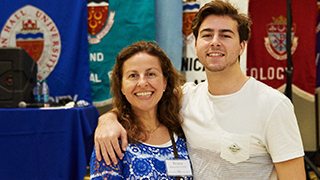 It was no question that Ivana Bertuzzelli would be a part of her son's college experience. "By nature, I am always involved," she explained. "Now that my children are older, I can pick and choose when I want to be involved — plus being involved with on-campus events is a great excuse to see my son, Marcello."
Ivana served as a panelist at the parents Meet-and-Mingle Breakfast during Seton Hall Weekend, and is currently working with the Stillman School to promote women in finance and gender equality in the industry. In addition, she plans to host a dinner reception at her company's offices in West Palm Beach to welcome President Mary Meehan, as well as Seton Hall alumni, prospective students and their parents who live in that area.
She plans to "immerse herself in the community," while keeping her distance. "I continue to guide Marcello without actually telling him what to do. I want him to have a sense of independence and belonging." She and her husband Gianni "teach our children to be a good citizens and to give back."
Before moving to Florida 25 years ago, she lived in New Jersey and attended Seton Hall as a commuter. She loves that Seton Hall still has the momentum it had then, still striving to keep improving, even with so much competition. The sense of belonging she had then hasn't left her. "Even 30 years later, it still feels like I have a family I can rely on here."
Maria Sicat-Fagel and Pantaleon Fagel, daughter Adeline '18
Huntingdon Valley, PA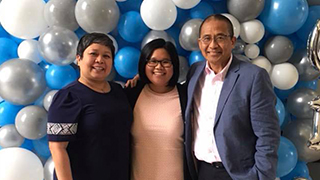 Drs. Maria Sicat-Fagel and Pantaleon Fagel are honoring the life-changing experience the University provided their daughter Adeline '18, who fell in love with Seton Hall when she was choosing a college. But she got off to a rocky start as a pre-med student, and contemplated taking a leave of absence. She told Associate Dean Christopher Kaiser about her passion for Asian studies and Japanese language courses, and he connected her with Professor Shigeru Osuka, who became her mentor. Adeline went on to major in Asian studies, graduating summa cum laude and winning an academic award for excellence in the study of Japanese. She's now headed to Japan to teach English and is considering a career in international business. The Fagels have established an endowment honoring Osuka that will support summer study-abroad opportunities through the Seton Hall-Japan Exchange Program with Sophia University. "If not for Dr. Kaiser and Dr. Osuka, who became a second father figure to Addie, she would not have had such a wonderful experience," Dr. Sicat-Fagel said. "They helped her at her lowest point, saying, 'We are your family too, and we will find a way to make it better.' We are so grateful that Seton Hall embraced the fragile emotions of our daughter."
The couple also joined the Parents Leadership Council, hosting prospective and current Seton Hall students in their home, including students from Osuka's home state of Hawaii. "Anything we can do to help Seton Hall," said Maria, "we do it." She recognizes that everyone has different ways of giving back. "You do not have to be rich to be generous; a little of what you have can change someone's future," she said.
Nate and Elizabeth Clee, son Aidan '22
Clark, NJ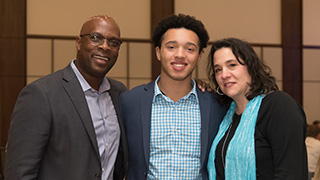 When the Clee family attended the Stillman School of Business' Accepted Student event onboard the Intrepid last spring, they were more than impressed. Not only was the venue amazing, but they also were able to speak with School alumni, deans and a finance professor. They were impressed by what they heard and also excited: Aidan had been accepted to the nationally recognized Buccino Leadership program at Stillman. They knew that Seton Hall was the place for their son after hearing other young people at the event talk about how the program was "no joke and a lot of work, but totally worth it as you become prepared for the business world."
Now Aidan is a finance major, combining his studies with economics and IT. As parents, they are not trying to rush his experience here at college, but they know he will have no problem finding a job since the program boasts a 100% employment rate.
While the fact that the University is faith-based wasn't a deciding factor, Dad Nate felt that "Seton Hall serves as a compass on how you should be as a person." Nate felt so connected to the University during Seton Hall Weekend that he is now interested in participating as a speaker to Seton Hall students, and providing career advice in the Information Technology sector.
Ivette Garcia-Linares '96 and Peter Linares, daughter Juliette '22
Chester, CT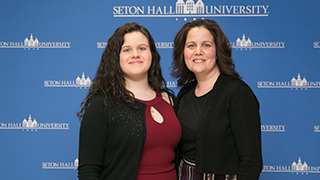 Last summer, the Garcia-Linares family attended an admitted student reception and a send-off reception — and wound up volunteering at the recent open house with her daughter Juliette. "It's a great opportunity to volunteer," said mom Ivette, a Seton Hall alumna. "You can see up close what's going on and have a real-life connection to events at Seton Hall – rather than just hearing or reading about them."
Ivette feels she is always informed about what's going on at the University, whether it's via email or social media. "You feel 'in the know' even though you're not there." For instance, when Ivette learned about an on-campus Career Fair, she made sure her daughter knew about it and reminded her of its importance.
Plus, it's nice to spend time with their daughter. She is a Girl Scouts of Connecticut member and achieved the Gold Award, the highest-ranking award in Girl Scouts. "It prepared her as a female leader," said Ivette. Both parents would have loved to have her go to college near their home in Connecticut. However, the schools there didn't offer the support she found at Seton Hall — support Ivette herself received during her time here as a graduate student in the '90s.
David and Lydia Steck, sons William '22 and Henry '20
Lake Forest, IL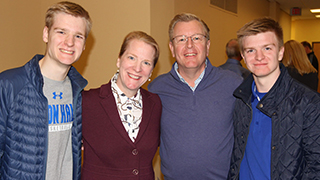 For the past two years, David and Lydia Steck have hosted admitted student receptions at the Union League Club in Chicago, with about 25 students and their families attending each event. Local alumni were also present to talk about their experience at the University, but the highlight of each event was when their son and his friends Skyped from the Seton Hall campus and had a Q&A session with attendees via a big-screen display at the Chicago venue.
Both of their sons are in the Pep Band and it has been a thrill for David and Lydia to watch them in person and during live games on TV. Henry is in the Leadership program in Stillman and already has an internship at Morgan Stanley lined up for the summer. This will be his fourth paid internship while at the University, and the Stecks find them valuable. "He is learning both academics and soft skills that he will need out in the world."
The Stecks truly enjoy the community at Seton Hall — they feel at home and already know many people that they enjoy seeing at on-campus events. "We are reassured that our guys are getting watched over."
The Illinois family plans to host their third admitted student event in March 2019.
Judith '84 and Gerard Saydah, daughter Mary '18/M.A. '19
Middletown, NJ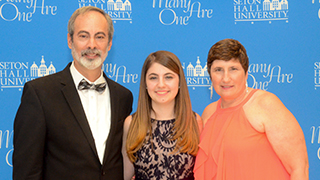 Seton Hall University has been a part of Mary's life in many ways. Her maternal grandfather graduated from Seton Hall Prep and received not only his bachelor's degree from the University, but also his master's degree. Mom Judith is also an alumna, having a received a B.A. in Political Science.
Then, when Mary was just a young teenager, she was encouraged to attend Seton Hall by Dr. Theresa Bartolotta, a former associate professor of speech-language pathology. Dr. Bartolotta was running a communication study for girls with Rett Syndrome, which included Mary's older sister Michelle.
Even though her family had strong ties to the University, they had very little influence on her Mary's decision to come. She had narrowed her choices down to four schools, but none could compare to what Seton Hall's B.S.E. program offered her. "It was too good to pass up," said Mary. She is now in the fifth year of her program, studying for her master's in special education with a focus on applied behavioral analysis.
With another Pirate now in the family, Mary's parents and her sister Michelle really enjoy taking part in school activities, especially Seton Hall Weekend. "We make a very big deal about it," laughed Judith, after the family dressed as pirates at the Legacy Breakfast and won a prize for most school spirit. "We attend as many events as we can, including Many Are One, the annual alumni recognition event. It was such an honor for Mary in 2017 when she was recognized as an alumni scholarship recipient."
Kevin and Beth Farrell, son Conor '20 and daughter Kathrine '22
Sudbury, MA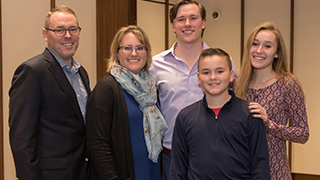 Kevin and Bath Farrell knew from the start that Seton Hall was the right choice; but, as parents, they felt they had to let their kids make their own journey. "When our eldest Conor was looking at colleges, no one from our town had gone to Seton Hall," said Beth. "Now, we are starting a trend in our area of Massachusetts."
Conor is a junior in the Stillman School of Business and his younger sister Kathrine is majoring in psychology, with the career goal of becoming a school counselor. When Kathrine visited Conor during his freshman year, she attended a basketball game and knew she had to come here. "I loved the school spirit and the big-school feel, even though the campus is not too big or small. It's the perfect size and just far enough from home," said Kathrine.
Conor is excited that he'll share a few years of college with his sister. What was his one piece of wisdom to impart? "The best thing I have ever done is get involved here. I am a peer advisor and while it was a lot of work, it was a good experience meeting so many people on campus."
Parents Kevin and Beth have school spirit as well. Beth finds It very easy to talk about Seton Hall, such as answering other parents' questions on the Seton Hall's Parents Facebook page, where she can help clarify and direct people to the right answers. They have also hosted send-off events at their house for students for the past two year. Eighteen accepted Seton Hall students from the central New England area attended. By hosting these events, Kevin said he's only fulfilling his familial duty to his children. "Since we aren't close, we wanted to find a way to be involved and volunteer our time."
Lisa '83/M.B.A. '90 & Kent Goldberg, sons Andrew '23 and Matt '23
Montgomery Township, New Jersey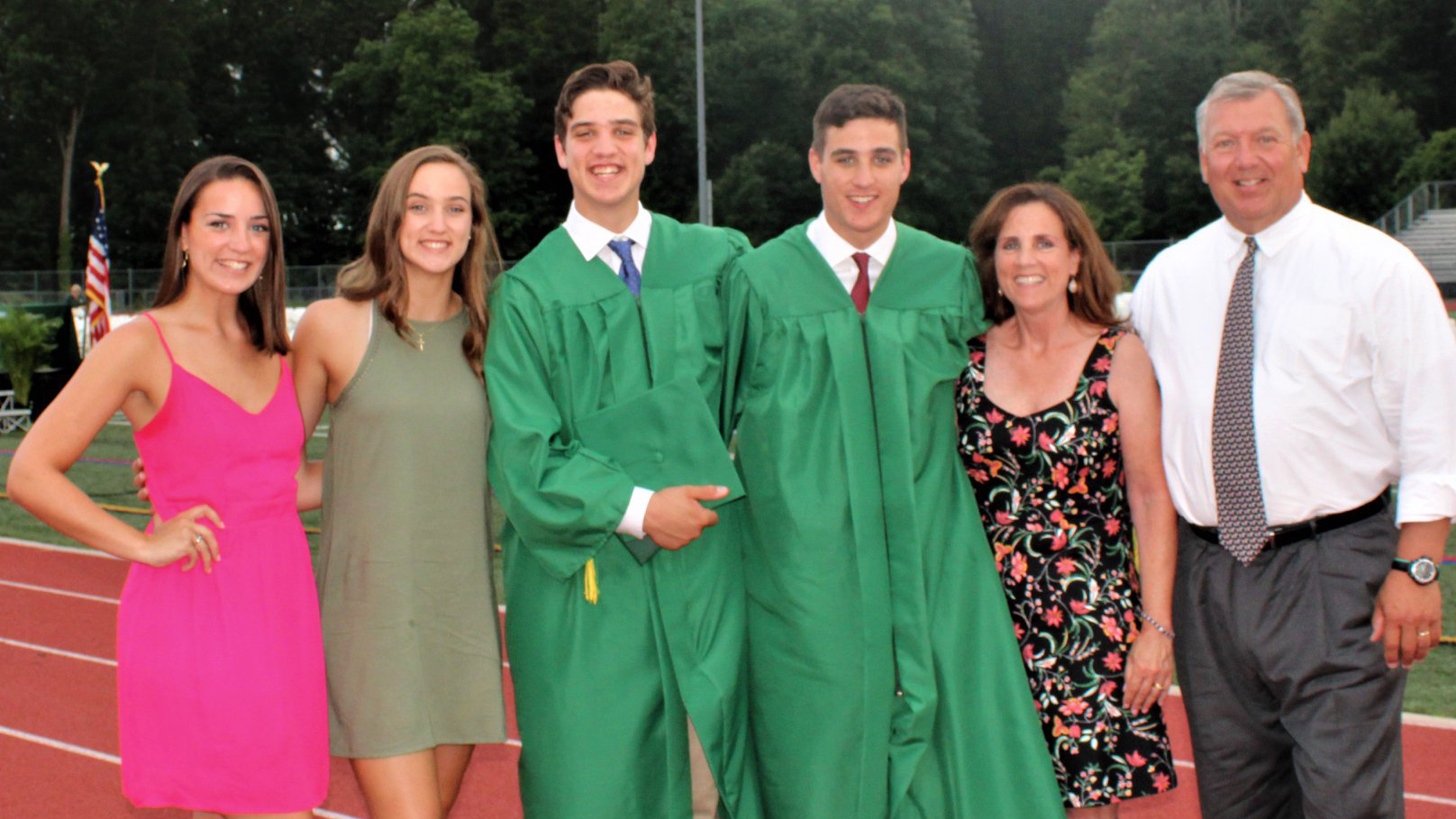 Lisa Youngberg '83/M.B.A. '90 hasn't forgotten her days at Seton Hall: her most memorable moments were marrying her husband Kent in the Chapel of the Immaculate Conception in 1990 as well as hearing former President Ronald Reagan's address at the 1980 Commencement.
Fast forward to 2019: Lisa and Kent's daughter Kristin is a 2018 graduate of the University and their twin sons Andrew and Matt are beginning their freshmen year as Pirates. Lisa said going to Seton Hall basketball games helped her sons see Seton Hall firsthand, especially because Kristen was a dancer with the Sapphires dance team as well as a campus tour guide with Blue Crew.
As Andrew and Matt were applying to colleges, Lisa said she worked to allow her twin sons to make their own choices. To help with the decision process, Andrew spoke with Michael Reuter, director of the Gerald P. Buccino '63 Center for Leadership Development, who convinced Andrew to apply to the leadership program. He was accepted and is now studying finance and economics.
Matt, a marketing major in the Stillman School of Business, had attended an event for accepted students and said that event helped firm up his decision to attend since he saw that both he and his brother could attend the University while pursuing their own separate interests. When asked which groups the twins plan to be involved with on campus, Andrew answered right away that he is interested in the Hall Street Fund as well as the College Fed Challenge. He is also considering working as a lifeguard at the Rec Center pool. Matt wants to be involved with Autism Speaks and hopes to follow in his sister's footsteps as a Blue Crew tour guide.
Both Andrew and Matt are looking forward to volunteering with DOVE. Andrew said, "I want to make a difference in the community." Matt added, "I liked making a connection with the senior citizens," at a senior center close to home. "They have a lot to say and its valuable to listen to them."
Lisa is looking forward to seeing her sons making important connections and good friends at Seton Hall. "I made my best friends here, and we still keep in touch."