In Time of Isolation, DOVE Looks to Make Connections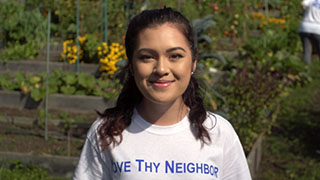 As a growing number of communities around the globe move to isolate themselves as a result of the COVID-19 pandemic, Campus Ministry's Division of Volunteer Efforts (DOVE) is working tirelessly to bring the Seton Hall community together through servant leadership.
Under the guidance of its director, Michelle Peterson, DOVE raises Seton Hall's awareness of social injustice through volunteer work, affirming the dignity of all people and putting the Catholic faith into action. "Our focus is to teach students the importance of presence and the importance of learning from the most vulnerable," says Peterson. While in-person volunteer opportunities are temporarily on hold, DOVE has explored a number of ways for volunteers to give of their time remotely. Here are a few upcoming opportunities for the Seton Hall community to get involved and serve others in the wake of the pandemic.
DOVE is working with Achieve Tutoring, run through the South Orange/Maplewood School District, to provide local elementary and middle school students with one-to-one tutoring in a variety of subjects through video conferencing while the students are being homeschooled.

Stemming from an existing relationship with First Friends, which provides visitation, assistance and advocacy for detained immigrants and asylum seekers, DOVE is working to establish a pen pal system with detainees. Students will be matched with a detainee at the Elizabeth Detention Center, the Hudson County Correctional Center, the Bergen County Jail or the Essex County Correctional Center-Delaney Hall. As these individuals come from various countries throughout the world, there is an urgent need for Spanish speaking volunteers to serve as pen pals.

Additionally, DOVE has partnered with Pillar Care Continuum (formerly CPNJ) to continue its regular Monday visits with a group home in Orange for people with disabilities, with the hope of expanding the initiative to additional group homes. DOVE has also reached out to the Arc of Essex Country and the Arc of Somerset to assess their needs.
Looking further ahead, DOVE is seeking to go digital with its volunteer efforts at the White House Nursing Home in Orange, NJ. Typically, each week DOVE coordinates the BINGO program and provides one-on-one visitation through its "Adopt a Grandparent" program. Currently, White House does not have the technology needed for remote visits, but DOVE continues to engage with them in hopes that this may change.
Finally, DOVE has been in touch with Seton Hall's Center for Research and Engagement (CCRE), which is looking for similar opportunities for service learning.
"This experience has stretched us in DOVE. I think about our DOVE vans, which sit idle on campus. They are normally filled with such life! Several times each day, they are bursting with students who begin with prayer and then arrive at nursing homes, soup kitchens, group homes, children's programs, etc., to give of themselves to our neighbors," says Peterson. "Afterwards, those students return to the vans to reflect on their way back to campus; they speak about poverty, loneliness, hope and most especially, love. During this crisis, we are relying on technology to remain profoundly present and to share our love. We will do whatever we can to continue our commitment to service."
Veronica Cervone, a Seton Hall senior and DOVE volunteer, echoes her director's sentiments. "During a time like this, it is important for people who are struggling to know that they are not suffering alone. While we may not be able to physically be together, rallying around a cause as a community will provide hope at a time when we are all desperate for it the most," she says. "Having opportunities to continue to serve our community and spread love remotely is what makes going to Seton Hall so special."
Those who feel compelled to volunteer may contact DOVE at [email protected].
Click here for additional ways to stay connected with Campus Ministry throughout the COVID-19 pandemic.
Categories: Campus Life, Faith and Service