Seton Hall Graduates 2,337, Ukrainian Catholic Metropolitan-Archbishop Gives Commencement Address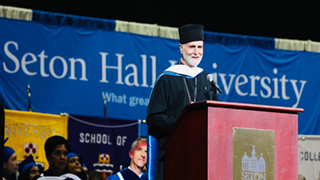 His Excellency Borys Gudziak delivered the commencement keynote address.
Seton Hall University celebrated its 167th Baccalaureate Commencement on Monday, May 22, at the Prudential Center in Newark, N.J. Delivering the commencement keynote address was His Excellency Borys Gudziak, the Metropolitan-Archbishop of the Ukrainian Catholic Archeparchy of Philadelphia.
Amidst pomp and circumstance and clad in Pirate blue, the University graduated 1,386 students with baccalaureate degrees, 804 with honors. In addition, 951 graduate students received master's and doctorate degrees this commencement season, making the total number of graduates this year 2,337.
Cardinal Joseph William Tobin, C.Ss.R., Archbishop of Newark and University Chair, Board of Trustees and President, University Board of Regents, delivered the Invocation to the Class of 2023, asking blessing for "all these graduates and all who have supported them through their years of study." Cardinal Tobin also prayed for peace, saying "God of love and mercy, we pray for an end of all violence – whether in our neighborhoods or far away lands. Help us to see that war is never the answer. That violence can never solve the problems in our society or among nations. We pray especially for the people of Ukraine – and for other war torn nations. May they know lasting peace."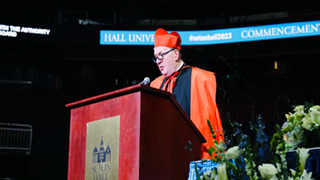 Cardinal Joseph William Tobin delivered the Invocation to the Class of 2023.
Closer to home the Cardinal prayed for "the victims of domestic violence and the senseless mass shootings that cause so much pain and hardship in our communities," asking that God "help us work tirelessly to address the root causes of violence: poverty, addiction, mental illness and injustice."
The Charge to Graduates
Presenting the Charge to the graduates and their guests was University President Joseph E. Nyre, Ph.D.
"Your Seton Hall degree marks the beginning of your journey as a Great Mind," said President Nyre. "The coming years will show the world what we already know: You are strong, decisive individuals who know how to listen; consider differing ideas; develop an informed point of view; and take action."
Keynote
The keynotes address was delivered by His Excellency Borys Gudziak, an honorary citizen of Lviv, Ukraine, who recounted Seton Hall's long history of opening its doors to Ukrainian immigrants – both students and faculty – and thanked the University for its openness and the fulfillment of its mission:
This premiere diocesan University has been a place where refugees from Ukraine and their children found a home. Seton Hall has shared the light of faith and reason with generations while responding to often dire social needs…. Allow me on behalf of many generations of Ukrainians to express our gratitude for the university's solidarity with war victims and refugees. Seton Hall is a pioneer in hospitality!
He gave as an example Seton Hall Professor Nicholas Chirovsky, who arrived in the United States from Ukraine at 30 years old in 1949 with two doctorates – but, until hired by Seton Hall, could only find university work as a janitor.
Professor Chirovsky lectured at Seton Hall University for 37 years – from 1949 to 1986 – and authored more than 20 books.
Archbishop Gudziak has been recognized for his work in shaping civil society in Central and Eastern Europe, receiving numerous awards and distinctions including recognition as a Cavalier of the Order of Legion of Honor (Chevalier de l'Ordre national de la Légion d'honneur) in 2015, the highest decoration in France, as well as the Jan Nowak-Jeziorański Award in 2016, in Wroclaw, Poland. He travels globally with lectures and talks on theology, history, spirituality, education, society, and current challenges in Ukraine.
Returning to Professor Chirovsky, Archbishop Gudziak told the graduates
The story of Professor Nicholas Chirovsky is a story of an industrious, devoted man, who trusted God, and of a good Catholic University that is a place of welcome and opportunity.
Dear graduates, I believe that Seton Hall University was a place of welcome and opportunity for you. That you have learned not only facts, theories, and principles but also how to trust in your God-given dignity and cooperate with others, how to build friendships and work relationships.
He also advised them to cultivate humor in their lives, noting that in the Ukraine (which he has visited six times since the onset of the Russian onslaught), humor is flourishing amidst the terror. He said,
He also advised them to cultivate humor in their lives, noting that in the Ukraine (which he has visited six times since the onset of the Russian onslaught), humor is flourishing amidst the terror. He said,
Humor consoles me and many as we intently follow the war against Ukraine. Not only the courageous resistance and resilience. Despite the atrocities, pain, air raids and shelling, destruction of energy grids, economic and humanitarian crises, Ukrainians keep their sense of humor.
They love and laugh. Stand-up comedians gather audiences in bomb shelters. People joke about Grandma Elena who took out a drone by throwing at it a jar of pickled tomatoes from her balcony.
Learn to love God's surprises. They teach us to laugh. Learn to laugh at your own ambitions, plans, and strategies. They are serious and important. But they also can be ridiculous! Dream, strategize, plan.
Commit, achieve, build.
But laugh. Because when your plans and dreams are shattered you will remember that a loving God has you in His hands and with His divine humor prepares you for new surprises, for sacraments, for salvation.
And then you can laugh with God as did the good Seton Hall professor, father, and humorist Nicholas Chirovsky.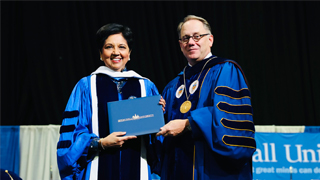 Indra Nooyi and President Joseph E. Nyre.
At the Commencement, Archbishop Gudziak received an Honorary Doctorate of Humane Letters alongside Indra Nooyi, former CEO and chairman of PepsiCo from 2006 to 2019. Nooyi's prescient strategic thinking, insight into consumer behavior, and wisdom on managing a vast, global workforce make her one of the world's most sought-after advisors to entrepreneurs, executives, and governments. She is also revered as a role model for women and immigrants and celebrated for her empowering messages on inclusivity. At PepsiCo, she was the chief architect of Performance with Purpose, the company's mission to deliver sustained growth by making more nutritious products, limiting the company's environmental footprint, and empowering its associates and people in the communities it serves.
Nooyi was introduced by Mauro Porcini, chief design officer at PepsiCo and author of the best-selling book, The Human Side of Innovation. He said that Indra Nooyi was "a phenomenal human being, an inspirational woman and an iconic business leader" who he said he was also "privileged to call mentor and friend." He further noted that although she was CEO and chairman of the second largest food and beverage company in the world and the biggest in the United States (more than 260,000 employees; 411% return on investment during her tenure) when he first met her he experienced "clearly and unequivocally the human side of Indra – the unique warmth, her personable approach, her fun personality."
Valedictorian
Students achieving the highest GPA from each college and school were invited to participate in a process to select a Valedictorian to deliver a commencement address that reflects on the meaning of their Seton Hall experience and how it has led to a special vision for the future. From this process, a student to give the Valedictory address as well as two alternates were chosen.
Alternate Speaker Jessica Moran is from Berkeley Heights, New Jersey. She is an accounting major at the Stillman School of Business who graduated Summa Cum Laude (with highest honors). During her time at Seton Hall she was a proud member of the Buccino Leadership Institute, the nation's #1 undergraduate leadership development honors program. In the leadership honors program, Jessica was selected as the Class of 2023 Buccino Scholar, served as a Class Representative and mentored underclassmen. Following graduation, Jessica will work full-time as an Audit Associate for KPMG LLP, one of the nation's leading "Big 4" public accounting firms.
Alternate Speaker Megan Gawron from Kunkletown, Pennsylvania, is a graduate of the School of Diplomacy and International Relations with a triple-major in diplomacy and international relations, philosophy, and economics and a minor in communication. During her time at Seton Hall Meg actively wrote for The Diplomatic Envoy, which she became the Editor-in-Chief of in her senior year. She also graduated as a co-captain of the nationally-ranked Brownson Speech and Debate Team — top 13 in the country. In her four years of competing, she earned national-level awards in seven different events. After graduation she is moving to Washington, D.C. to join Deloitte as a tax consultant.
The Valedictory Address was delivered by Caitlin A Lacey, who graduated Summa Cum Laude (with highest honors) and hails from Charleston, South Carolina. She is a communication and philosophy double major within the College of Communication and the Arts. Her involvements include Sigma Tau Delta, Lambda Pi Eta, Tri-Alpha Honors Society, and the Honors Student Union. Caitlin worked as a resident assistant and completed the Honors Program with a 4.0 GPA. As a scholar in the R.I.S.E. – Resilience, Integrity, Scholarship and Excellence – program, she worked as an event host, mentor, tutor, and tutor coordinator to help empower eligible students to achieve and maintain academic excellence and college success. After graduation, she will be teaching and advising students this summer at Yale University. Beyond this summer, she will pursue a career as a travel writer.
Recounting her bouts with "Impostor Syndrome," first as an incoming freshman and even now as valedictorian, Lacey told her fellow students of her recurring self-doubt and the question she repeatedly asked herself: "Am I supposed to be here?" She said,
After just one week of classes, I felt like I couldn't measure up to all of the great minds and impressive people on this campus. Since then, with every paper, every exam, every accomplishment, I still found myself doubting my own capabilities and wondering when people would realize what I thought I already knew: that I wasn't actually deserving of my success.
With hindsight I now see that these feelings are a universal experience, especially for those of us sitting in this room. The idea that we're not supposed to be here has been a central theme for the class of 2023. Our Seton Hall experience began with the COVID-19 pandemic, while the biggest worry for students before us was not stepping on the seal. When the world quite literally told us to give up, we kept moving forward, one day and one mask at a time.
But she assured her classmates, on the verge of graduation, that "it's clear that for the past four years, we were all exactly where we were supposed to be." Noting the disruption of COVID-19 on the academic journey of this class, she said:
It's true, our college experience was far from perfect, but it's clear that for the past four years, we were all exactly where we were supposed to be. In our time at Seton Hall, we've learned so many lessons that go far beyond textbooks and interview skills; our experiences here taught us how to be better people. I've worked as a resident assistant, a tutor, a coordinator, and a mentor for this university, and these opportunities have shown me that it only takes one person with a mindset of servant leadership to create a long-lasting impact. We see this in our professors and their dedication to their students, and from this I realized that we will always have people in our corner willing to help us succeed. From our wonderful community of leaders, mentors, and friends, I've learned that we are not defined solely by our grades or our accomplishments, but rather by how we choose to define ourselves. Finally, this institution had faith in me and encouraged me to learn to trust myself, and in the words of Ralph Waldo Emerson, "self-trust is the first secret of success."
For more information about the speakers and Seton Hall's 167th baccalaureate ceremony, please visit our Commencement website.
Categories: College of Human Development Culture and Media