2023 Commencement Speaker and Honorary Degree Recipients
---
The Metropolitan-Archbishop of the Ukrainian Catholic Archeparchy of Philadelphia, His Excellency Borys Gudziak
Keynote Speaker and Honorary Degree Recipient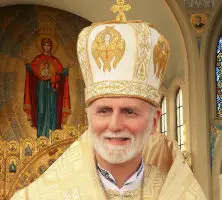 The official enthronement ceremony of Metropolitan Archbishop of Philadelphia of the Ukrainian Greek Catholic Church, Borys Gudziak, took place on June 4, 2019, in the Ukrainian Catholic Cathedral of the Immaculate Conception in Philadelphia, with participation of fifty bishops from the Eastern Catholic, Roman Catholic and Ukrainian Catholic Churches, over a hundred of priests and members of the monastic orders. Archbishop Gudziak became the seventh Metropolitan Archbishop of the Archeparchy of Philadelphia of the UGCC.

Born in 1960 in Syracuse, New York, the son of immigrants from Ukraine, Borys Gudziak earned a bachelor's degree in philosophy and biology from Syracuse University in 1980 and then studied in Rome, in the circle of Patriarch Josyf Slipyj. He received a S.T.B. degree in theology from the Pontifical Urban University in 1983 and then returned to the United States to pursue a doctorate in Slavic and Byzantine Cultural History at Harvard University, which he successfully defended in 1992. In 1995, he earned a licentiate in Eastern Christian studies from the Pontifical Oriental Institute.

Archbishop Gudziak has received numerous awards and distinctions including recognition as a Cavalier of the Order of Legion of Honor (Chevalier de l'Ordre national de la Légion d'honneur) in 2015, the highest decoration in France, and a recipient of the Jan Nowak-Jeziorański Award in 2016 in Wroclaw, Poland, in recognition for his work in shaping civil society in Central and Eastern Europe.

He speaks English, Ukrainian, Italian, Polish, French, Russian and German and travels globally with lectures and talks on theology, history, spirituality, education, society, and current challenges in Ukraine. Archbishop Gudziak is the author of a number of scholarly works, among them a doctoral dissertation on sixteenth-century church history, published as Crisis and Reform: The Kyivan Metropolitanate, the Patriarchate of Constantinople, and the Genesis of the Union of Brest (Harvard University Press, 1998), as well as numerous articles in European and North American academic journals. He has also penned articles in popular magazines, newspapers, commentary on political, cultural and religious affairs, position papers on academic curricula and educational reform, and introductions to scholarly and spiritual publications.
---
Indra K. Nooyi, Former CEO and Chairman of PepsiCo
Honorary Degree Recipient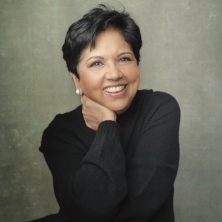 Indra K. Nooyi served as CEO and chairman of PepsiCo from 2006 to 2019. Her prescient strategic thinking, insight into consumer behavior and wisdom on managing a vast, global workforce make her one of the world's most sought-after advisors to entrepreneurs, executives, and governments. She is also revered as a role model for women and immigrants and celebrated for her empowering messages on inclusivity.
At PepsiCo, she was the chief architect of Performance with Purpose, the company's mission to deliver sustained growth by making more nutritious products, limiting the company's environmental footprint, and empowering its associates and people in the communities it serves. Nooyi served as a member of the PepsiCo Board of Directors from 2001 to February 2019, and is now a member of the board of Amazon, where she chairs the audit committee. She sits on the supervisory board of Philips and is a member of the nominating and corporate governance committee. She also serves on the International Advisory Council of Temasek; is an independent director of the International Cricket Council; and a trustee at the National Gallery of Art. She is on the Dean's Advisory Council at Massachusetts Institute of Technology's School of Engineering and serves on the boards of the Memorial Sloan Kettering Cancer Center and the Partnership for Public Service.

Nooyi is the author of the New York Times best-selling book My Life in Full: Work, Family and Our Future, a memoir that offers insight and a call-to-action on how our society can blend work and family — and advance women — in the 21st century.
She holds a B.S. from Madras Christian College, an M.B.A. from the Indian Institute of Management in Calcutta and a Master of Public and Private Management from Yale University.
---
Mauro Porcini, PepsiCo Chief Design Officer
Introduction of Honorary Degree Recipient, Indra Nooyi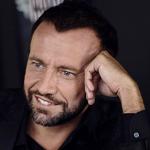 PepsiCo's first ever Chief Design Officer, Mauro Porcini joined the food and beverage corporation in 2012. Presently, he is infusing design thinking into PepsiCo's culture and is leading a new approach to innovation by design that impacts the company's product platforms and brands, which include Pepsi, Lay's, Mountain Dew, Gatorade, Sodastream, Doritos, Lifewtr, Bubly, Aquafina, Cheetos, Quaker, 7Up, Mirinda, amongst many others. His focus extends from physical to virtual expressions of the brands, including product, packaging, events, advertising, fashion and art collaborations, retail activation, architecture and digital media.

In the fall of 2022, Mauro published his first book in English, The Human Side of Innovation. The Power of People in Love with People (Berrett-Koehler), which focuses on innovation, design and leadership. The book was named a Gold Winner of the Better Future – New York Design Award the month of its publication. In the spring of 2021, he published his first book in Italian L'età dell'eccellenza – Come innovazione e creatività possono costruire un mondo migliore (Il Saggiatore), which is now in its fifth reprint.

Prior to joining PepsiCo, Mauro served as the first ever Chief Design Officer at 3M, where his mission was to build and nurture a design sensitive culture in a technology driven global corporation. His teams, based in the U.S., Italy, China and Japan, won many of the world's most prestigious design and innovation awards. Mauro began his professional career at Philips Design and then created his own design firm, Wisemad Srl, in Italy with the celebrated entertainment producer and music star Claudio Cecchetto. His work on wearable technologies has been showcased at the Louvre in Paris as well as the Seoul Art Center.

Over the years he has been on the board of directors for several organizations. Currently, he is the President of the Politecnico of Milan Foundation in the United States (Fellows of Politecnico), sits on the board of directors of the Design Management Institute, and on the advisory council of other design, art, innovation and business institutions.

Mauro is the host of the podcast In Your Shoes - with Mauro Porcini, where he interviews inspiring personalities from the creative community worldwide. And, for several seasons he's been a presenter and judge on the TV show New York by Design and America by Design, airing on CBS and Amazon Prime Video.
---
Monsignor Gerard McCarren, Rector/Dean of Immaculate Conception Seminary School of Theology
Introduction of Keynote Speaker and Honorary Degree Recipient, His Excellency Borys Gudziak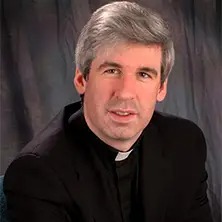 Reverend Monsignor Gerard H. McCarren, S.T.D., recently appointed Rector/Dean of Immaculate Conception Seminary School of Theology, effective July 1, 2023, earned a B.A. from Yale University with majors in history and in philosophy (psychology track), an M.Div. from Immaculate Conception Seminary School of Theology and an S.T.L. and an S.T.D. in Systematic Theology from The Catholic University of America. He was ordained to the priesthood in 1991.

Monsignor McCarren's study at CUA focused on John Henry Cardinal Newman.  His doctoral dissertation is titled "Tests" or "Notes"?  A Critical Evaluation of the Criteria for Genuine Doctrinal Development in John Henry Newman's Essay on the Development of Christian Doctrine.  Monsignor McCarren served on the Board of the Newman Association of America from 2001 to 2016, and served as vice president in the year 2014-2015 and as program director for its annual conferences from 2002 to 2006 and again in 2016.  He was elected an emeritus member of the board in 2016. As Associate Professor of Systematic Theology, he has taught such classes as Worship of the Church, Liturgical Practicum, and Sacraments of Initiation, and is a member of the theological faculty of the Pastoral Provision.  Monsignor McCarren has given ten papers at academic conferences and has published in Josephinum Journal of Theology, Newman Studies Journal, Seminary Theology II:  Theology and Spiritual Direction in Dialogue, and The Cambridge Companion to John Henry Newman.

He was named  Spiritual Director for the Seminary effective July 1, 2004.  In Spring 2005, Monsignor McCarren was named Chaplain to His Holiness. During summers, he has served as a spiritual director and often as a teacher for the summer seminarian program of the Institute for Priestly Formation (Omaha, Nebraska) from which he received the Our Lady of Guadalupe Award in 2013 in acknowledgement of exemplary service to the mission of IPF. From 2007 to 2016, he served as a Vatican appointee to the Joint Commission for Dialogue between the Roman Catholic Church and the World Methodist Council. Monsignor McCarren served as president of the Federation of Seminary Spiritual Directors (United States and Canada) from 2018-2022. He has long served as a weekend assistant priest at Holy Trinity Church in Westfield, New Jersey.