Seton Hall University Forges Partnership with Catholic University of South Sudan
Wednesday, November 3rd, 2021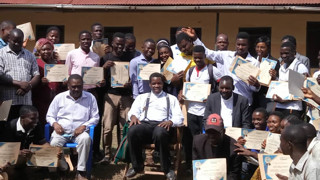 Seton Hall University has forged its first partnership with the Catholic University of South Sudan as part of its membership with the International Federation of Catholic Universities (IFCU), a world-renowned Catholic higher education organization.
The partnership will facilitate global collaboration among the two universities, allowing opportunities for student and faculty exchanges and the development of joint programs, panels and research teams, among other initiatives.
"We are excited to co-share our knowledge and build new synergies between our faculty and students with South Sudanese faculty and students," said Katia Passerini, Ph.D., Provost and Executive Vice President. "We foresee expert discussions on peace, reconciliation and sustainability; internship opportunities for students; development of new specialized courses, conferences, publications that will help build a culture of dialogue, peace; and reconciliation in South Sudan."
In a statement issued on the institution of the partnership, Most Reverend Eduardo Hiiboro Kussala, Bishop of the Catholic Diocese of Tombura-Yambio and Patron of St. John's Yambio Campus of the Catholic University of South Sudan, hailed the partnership as welcome news for students and the Church of South Sudan.
He explained the Catholic University of South Sudan will benefit from collaboration, saying: "For a university rich of tradition and records of excellence to partner with a new emerging and promising university is no doubt motivated by the genuine spirit of fraternity and solidarity of Catholic Universities of the universal Church."
Through a two-way dialogue, the partnership will cultivate an ongoing exchange of ideas, practices and shared service. Father Colin Kay, Vice President of Mission and Ministry, shared, "There is great synergy between our institutions. The exchange of faculty, students and staff between Seton Hall University and the University of South Sudan might provide fresh answers to peaceful and sustainable solutions for the people of South Sudan."
Reverend Ibiko Morris Masiri, Ph.D., Director of the St. John's Yambio Campus of the Catholic University of South Sudan, added that the partnership will also contribute to new programs and initiatives at both universities and "is a concrete expression of the privilege our belongingness to the Catholic University family."
Seton Hall joined the IFCU in June 2021, becoming part of a collective federation that includes more than 200 Catholic universities and higher education worldwide. As such, the intersection of scholarship, practice and prayer will help characterize the initiatives and efforts of the South Sudanese and future partnerships.
Reflecting on the partnership, Ines Murzaku, Ph.D., Director of Catholic Studies, noted that she believes it will truly make a difference and emphasized the promotion of peace as the driving force behind the project. "I will never forget Pope Francis' rare gesture of kneeling and kissing the feet of the rival South Sudan warring leaders, asking them 'to go forward.' To that, I would add, 'go forward in peace building' – that is at the core of this agreement."
For additional information, please contact Dr. Ines Murzaku at [email protected] or Seton Hall's IFCU website.
Categories: Faith and Service, Nation and World