Prestigious International Federation of Catholic Universities Grants Membership to Seton Hall University Fostering Collaboration with World-Renowned Academic Community
Wednesday, June 16th, 2021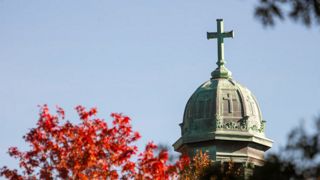 Seton Hall University announced its acceptance into the largest and most diverse international network of Catholic universities, International Federation of Catholic Universities (IFCU). This world-renowned higher education organization, created in 1924 and based in Paris, is marked both by its geographical extensiveness and its cultural richness.
The IFCU defends and promotes the mission and social responsibility of Catholic universities in a spirit of inter-university solidarity. Among its peer institutions are The Catholic University of America, Georgetown University, University of Notre Dame, Boston College, Villanova University, Loyola University Chicago, DePaul University, St. John's University, Pontifical Gregorian University, Catholic University of the Sacred Heart of Milan; Pontifical Urban University; Pontifical University of Saint Thomas Aquinas in Italy; Laval University, Saint Paul University, and Newman Theological College in Canada.
In his letter to IFCU President Isabel Capeloa Gil, Seton Hall President Joseph E. Nyre, Ph.D. emphasized the benefits for Seton Hall University to join the federation of more than 200 Catholic universities and higher education institutions worldwide.
"It is important for Seton Hall University to be part of the International Federation of Catholic Universities (IFCU) and share the great wealth that comes from the encounter between so many universities, as Pope Francis said to the members of IFCU in audience in the Vatican in 2019. The IFCU is called to take up the moral imperative of striving to achieve a more united international academic community and Seton Hall University is up to the task to help answer that call," said Nyre.
Father Colin Kay, Vice President of Mission and Ministry, shared, "It is a great achievement for Seton Hall and its Catholic mission to be part of the International Federation of Catholic Universities, an organization which promotes collective reflection on the Catholic mission promoting dialogue, research and exchanges among its international members."
In welcoming Seton Hall, Professor Gil discussed the importance of this partnership in a world of unprecedented challenge.
"What brings us together is the common will and the mission to serve the Church, to support a vision of higher education that supports and develops the person as an integral being dignified and whole. . . Throughout the years the federation has supported strategies of research and development, pedagogical innovation as well as service to the community where different institutions are gathered," said Gil, adding, "The belief in the strength of our mission will certainly continue to drive us forward to foster stronger and better coalitions so that together we can muster the difficulties of the present and be able to look at the future with hope and to develop the opportunities ahead."
The vocation of the Federation is:
To promote, among Catholic institutions of higher education and research, a collective reflection on their mission;
To promote university cooperation in the field of research and the valorization of research results among the various decision-makers;
To facilitate the sharing of experience and expertise in the field of higher education;
To represent Catholic universities in international organizations and associations and, in accordance with its institutional priorities, to collaborate with them; and
To contribute to the development of Catholic higher education and to the affirmation of its specific character.
Dr. Katia Passerini, Provost and Executive Vice President, explained, "The benefits for Seton Hall University faculty and students to be part of the IFCU include opportunities to discuss problems facing Catholic higher education, foster international scientific collaboration and multidisciplinary research. There will be new opportunities for cross-pollination including building new programs between Seton Hall and IFCU partner universities."
She also emphasized that through the IFCU Seton Hall University will be in direct contact and collaborate with international organizations including The United Nations Educational, Scientific and Cultural Organization (UNESCO), United Nations Economic and Social Council (ECOSOC) and the Council of Europe.
The International Federation of Catholic Universities (IFCU) also collaborates with the Vatican's Secretariat of State, the Congregation for Catholic Education, Agency for the Evaluation and Promotion of Quality in Ecclesiastical Universities and Faculties (AVEPRO), and other Vatican dicasteries including the Dicastery for Integral Human Development.
For additional information, please visit Seton Hall's IFCU website.
Categories: Arts and Culture, Campus Life, Education, Nation and World, Research, Science and Technology