WSOU Wins Marconi Award for College Station of the Year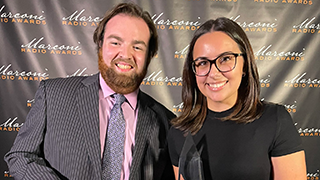 Attending the 2023 National Association of Broadcasters Marconi Radio Awards at the Javits Center to receive the award were WSOU's Station Manager Kayla Fonseca and News Director Ryan Henry.
For the second time, Seton Hall's student-run radio station WSOU 89.5 FM has been honored by the National Association of Broadcasters (NAB) with a Marconi award, among all candidates throughout the country.
Referred to as the "Academy Awards of Radio," NAB's Marconi Awards honor excellence in the industry. The winners are chosen through a two-tiered process: a committee of broadcasters selects the finalists, and then the NAB Marconi Radio Awards Selection Academy votes on the winners. An independent firm is responsible for tabulating the votes.
In 2016, WSOU won the Marconi Award for "Non-Commercial Radio Station of the Year." In addition, WSOU has been recognized with more than 70 industry awards, including a Peabody Award, and was named a "Top 5 Radio Station" in the country by Rolling Stone magazine. In 2018, the station was inducted into the Radio Hall of Fame, and the Garden State Journalist Association's 72nd Annual memorial Journalism Awards recognized five students from the ranks of WSOU.
What makes this year's recognition especially fitting is the station is also celebrating its 75th anniversary of operation, noted Bryan Crable, Ph.D., founding dean of the College of Human Development, Culture, and Media (CHDCM). "I couldn't be more proud of our amazingly talented students, staff and faculty at WSOU 89.5 FM. To have Seton Hall recognized as the home of the college radio station of the year is an honor, and it again testifies to the hard work and dedication of the great minds — and voices — of our students in the College," said Crable.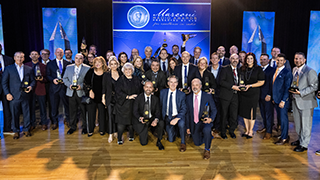 Referred to as the "Academy Awards of Radio," NAB's Marconi Awards honor excellence in the industry.
"The excitement of the 75th anniversary celebration of the station keeps going," added Christopher Aurilio, M.A., who serves as CHDCM's director of production and facilities, leading and advising activities at its broadcast, production and performing arts spaces, including WSOU. "This prestigious honor is another amazing milestone. We're so proud of the work of our students, whose efforts have led to three-quarters-of-a-century of a 24/7, student-run radio broadcast. I am sure this is the first of many accolades and bright futures for this current era of WSOU staff."
Attending the 2023 NAB Marconi Radio Awards at the Javits Center to receive the award were WSOU's Station Manager Kayla Fonseca and News Director Ryan Henry. Both seniors are journalism majors, with Fonseca hailing from Newark, N.J., and Henry from Bensalem, Pa. Each of them felt it was an experience of a lifetime, especially being surrounded by the country's best radio professionals.
"I was able to learn so much about the radio world just talking to these experts," said Henry. "To see the work that all our staff has done in the past year pay dividends was great. This was something we had truly done together." Fonseca added, "It was such a great feeling to deliver the news to the rest of the staff that their hard work had paid off in this tremendous way."
Also sharing the honor are the other members of the WSOU student management staff: Programming Director Joseph Nardone, a visual and sound media major from Wilkes-Barre, Pa.; Music Director Patrick Ritter, a marketing major from Fanwood, N.J.; Promotions Director Robert Steiner, a journalism major from Seaford, N.Y.; Sports Director Michael Federico, a visual and sound media major from Fair Lawn, N.J.; Technical Operations Director Joseph Matthews, a visual and sound media major from Lincroft, N.J.; Production Manager Naomi Muentes, a visual and sound media major from Bogota, N.J.; Social Media Manager Samantha Klein, an English major from Pompton, N.J.; and Staff Representative Chris Kovalcik, a history major from Edison, N.J.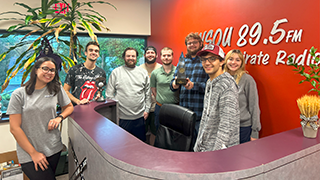 WSOU 89.5 Staff Members
About the Station
Launched in 1948, WSOU provides a hands-on learning ground for future broadcasters, with a close-knit family of more than 100 student broadcasters representing diverse backgrounds and cultures who share a love of radio. WSOU 89.5 FM has a loyal following in this competitive marketplace, exceeding 100,000 over-the-air and online listeners.
Generations of WSOU alumni have called the station home, including Bob Ley, Christina Lang, Glenn Schuck, Bob Picozzi, Joe Noland, Pete Tauriello and Kim Mulligan, among many others.
For the past 30 years, the station has been a major influence on loud rock, helping to introduce bands such as Volbeat, Incubus, Pearl Jam, Korn, Linkin Park and My Chemical Romance before they appeared on commercial playlists. WSOU innovates through format as the only station in the New York market to exclusively play Heavy Metal/Hard Rock, breaking bands like Disturbed and Linkin Park. The station still spins unsigned bands and holds more than 40 "WSOU Presents" concerts annually.
Staffed 24/7, the station provides students with many benefits including intangible life skills. "I've had the privilege of improving my communication, learning leadership skills, and being a team player through my involvement at WSOU," said Fonseca. "The station has shaped my future in a professional and personal way, and I wouldn't trade that for anything. You get out of WSOU what you put into it, and seeing our Marconi on my desk makes the last year and a half make all the sense in the world."
Henry indicated working at the radio station has taught him to be a more effective communicator. "I would not be the person I am today without WSOU. There is so much I have learned in my almost four years with the station," he said. "We have external clients in the music world, sports world and news world that rely upon us. If you aren't on top of your game, the whole organization suffers."
During 2022, WSOU Sports covered 157 games for Seton Hall and several tournament games (NCAA, Big East, WNIT). In addition, the sports department began covering the NJ Devils — marking its first time covering a professional team. The WSOU News team covered the 2020 U.S. election across platforms using field reporting, FM updates, social media, and streaming.
Along with its music programming, WSOU airs community-based programming for 12 hours every week, delivering cultural and religious information and entertainment. The staff also regularly leads food and clothing drives and donated 90lbs of food to the Community Food Bank of NJ in December.
WSOU 75th Anniversary Exhibit.
Celebrating 75 Years
Earlier in the year, WSOU celebrated its 75th Anniversary at its annual Hall of Fame Induction Ceremony, held at The Madison Hotel. More than 300 station alumni from around the nation attended and inducted three new members into the WSOU Hall of Fame: alumni Joe Reilly '60 and Tracy Gottlieb '75, and former WSOU General Manager Mark Maben. In addition, John Fanta '17, who is a FOX College Hoops Play-by-Play Broadcaster, was presented with the station's Distinguished Young Alumnus Award.
Currently, Seton Hall's Walsh Gallery is hosting WSOU at 75: The Voice of Seton Hall, an exhibit celebrating the people and events that have made WSOU one of the most distinguished college radio stations in the United States. Along with exhibition consultant Jack Kelly and in partnership with WSOU staff past and present, the exhibit includes artifacts from the history of the station on loan from alumni and preserved in the university's special collections.
Exhibit highlights include the recording of the first broadcast made at WSOU on April 14, 1948; a 1948 Zenith radio tuned to WSOU; and awards WSOU has won over the years, including the previous Peabody and Marconi Awards. The Walsh Gallery, located on the first floor of the Walsh Library on Seton Hall's South Orange campus, is open 9 a.m. to 5 p.m., Monday - Friday. Admission to the gallery is free and open to the public.
Categories: Arts and Culture