New Exhibit: The Walsh Gallery presents WSOU at 75
Thursday, August 17, 2023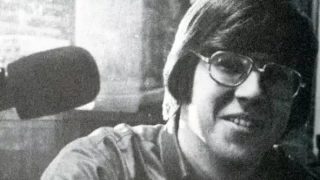 Bob Ley '76, when he worked at WSOU
The Walsh Gallery presents WSOU at 75: The Voice of Seton Hall, an exhibit celebrating the people and events that have made WSOU one of the most distinguished college radio stations in the United States for the past 75 years. Along with exhibition consultant Jack Kelly and in partnership with WSOU staff past and present, the exhibit includes artifacts from the history of the station on loan from alumni and preserved in the university's special collections.
Highlights include the recording of the first broadcast made at WSOU on April 14, 1948, a 1948 Zenith radio tuned to WSOU, awards WSOU has won over the years including the 1975 Peabody award and the 2016 Marconi award, and 1953 blueprints of the wiring of Sacred Heart Cathedral in Newark, when WSOU broadcast services from that location.
Visitors will also see artifacts from WSOU's rich history of sports broadcasting, including the jersey of Robin Cunningham, the first woman recruited to Seton Hall on a basketball scholarship, and a basketball signed by Monsignor Sheeran from Seton Hall's first Big East win. The exhibition opens Wednesday, August 23 and runs through Friday, December 8. The opening reception is Wednesday, September 13 from 4 to 6 p.m.
The exhibit is co-sponsored by the Monsignor William Noe Field Archives and Special Collections Center, the Archives of the Archdiocese of Newark, WSOU, and the College of Human Development, Culture, and Media. Stay tuned for programs throughout the show's run to highlight relevant themes and explore them in more depth. View updates at: https://library.shu.edu/walsh-gallery.
The Walsh Gallery, located on the first floor of the Walsh Library, is open 9 a.m. to 5 p.m., Monday—Friday. Groups of 8 or more must register in advance. Admission to the gallery and its programs is free and open to the public.
Categories: Campus Life