Two Alumni Named as College Presidents This Year
Tuesday, November 14, 2023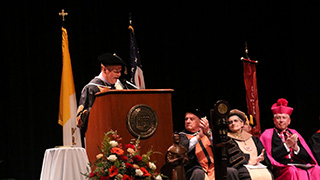 Seton Hall University is proud to announce the appointments of Alumnus William Bisset '14, as the 12th president of Lourdes University and Dale Caldwell, Ed.D. '17, as the 15th president of Centenary University.
Bisset earned his doctorate in the Higher Education Leadership, Management and Policy program at Seton Hall University. He has held senior-level positions at four nationally recognized colleges and universities, including his most recent role as vice president for enrollment management and student affairs at Marymount University, where he had served since 2020.
Following a comprehensive national search, Lourdes University (Sylvania, OH) appointed Bisset in part due to his "Catholic higher education background and enrollment growth expertise," per their website. Bisset assumed his position as the 12th President of Lourdes University on July 1, 2023.
Lourdes University is a Catholic and Franciscan institution in Sylvania, Ohio. Established in 1958 by the Sisters of St. Francis, Lourdes offers undergraduate and graduate degrees and is known for its quality academic programs and personalized attention afforded to students.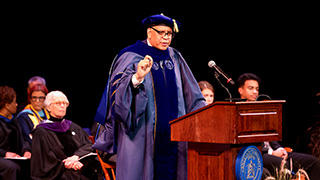 Caldwell earned his doctorate in Executive Education Leadership Management and Policy at Seton Hall University. He has been a prominent voice in New Jersey higher education for years. He served as deputy commissioner of the New Jersey Department of Community Affairs and is a longtime member and current president of the New Brunswick (NJ) Board of Education. Most recently, he sat on the Diversity, Equity, and Inclusion Advisory Council at Fairleigh Dickinson University, where he was also executive director of the Rothman Institute of Innovation and Entrepreneurship.
Caldwell's inauguration as the 15th president of Centenary University occurred on Oct. 21 during a ceremony on the University's Hackettstown campus. He is the first African-American president in the Centenary's 156 years of operation.
Enrolling nearly 2,000 undergraduate and graduate students, Centenary University, a private liberal arts University in Hackettstown, NJ, delivers accredited degree programs and other dynamic learning experiences to prepare students for regional and global professions of critical thought and purposeful action within a supportive environment immersed in a culture of service.
Upon appointment, Caldwell affirmed his commitment to Centenary University and its student body. "My presidency at Centenary will … establish this University as a transformative national model that take students from economic challenge to intellectual brilliance," stated Caldwell.
Through these programs, Bisset and Caldwell embody how the College of Human Development, Culture, and Media prepares educational professionals with the knowledge and skills to lead in a consistently changing global environment.
Categories: Education