Graduate Non-Matriculated Status
Do you only want to take 1 or 2 graduate courses? Are you not sure which program is right for you? Do you need more time to prepare the admission requirements for a matriculated program? Most graduate programs at Seton Hall University allow students to take courses on a non-matriculated basis.
As a non-matriculated student, you can enroll in graduate courses without being formally admitted to a program. You will have the same classroom experience as a matriculated student, and your credits can later be applied to one of our graduate programs should you be admitted.
Important Information for Non-Matriculating Students:
Students enrolled on a non-matriculated basis are not eligible for financial aid through Seton Hall University.
Enrolling as a non-matriculated graduate student does not guarantee future admission as a matriculated student.
Should a non-matriculated student wish to apply to a matriculated program, the student must formally apply to the program and submit all required documentation.
No student may take more than twelve (12) credits on a non-matriculating basis, and some graduate programs further restrict this number to only six (6) credits.
Visiting Students
If you are currently matriculated in a graduate degree at another university and wish to take a graduate course at Seton Hall on a non-matriculated basis to fulfill one or more of your curriculum requirements at your home institution, you are a visiting student.
Before enrolling at Seton Hall on a non-matriculated basis, visiting students must obtain permission from their dean or chairperson. This permission will ensure that the Seton Hall course is equivalent to the appropriate course at your home institution and will be approved for transfer credits.
How to Apply as a Non-Matriculated Student
Complete the Application for Graduate Admission as a non-matriculated student
Remit an application fee
Contact all post-secondary institutions that you have attended and arrange for your official transcripts to be sent to Seton Hall University (Applicants must have a bachelor's degree).
All materials should be sent to:
Office of Graduate Admissions
Seton Hall University
400 South Orange Avenue
South Orange, NJ 07079
Once your completed application for non-matriculated status is received by the Office of Graduate Admissions, it will be forwarded to the appropriate graduate department for review. Once a decision is made, you will be notified via letter or email.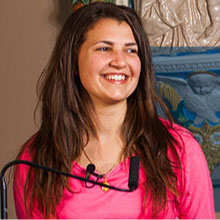 "My experience academic program that enables someone to enter life as one of the richest people on the planet. That is precisely what the Catholic intellectual and spiritual tradition instills in each of student."

Gabriella Furmato Catholic Theology, 2016