Study Abroad With the English Department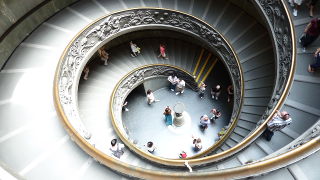 In today's global economy, travel abroad is more important than ever as part of every college student's curriculum. The Department of English offers English and Creative Writing Majors/Minors the opportunity to travel abroad and connect with the classical heritage and modern origins of our language and literature with Spring Break 7-9 day tours in the British Isles and a two-week summer experience in Italy.
Spring Break trips to the British Isles sponsored by the English Department are open to any students who have had or are enrolled in any British literature elective or any English Department-sponsored CORE III course. Trip costs are paid independently of tuition costs and are all-inclusive. To add 3 credits to your travel abroad experience, register for the course associated with the trip.
London, The City Experience
Includes Windsor Castle, the British Museum, the Tower of London, Westminster Abbey, and St. Paul's Cathedral. Students see Big Ben, the Globe Theater, Trafalgar Square, and much of London on guided walking and bus tours. The trip also includes a daytrip to Stonehenge and an overnight stay at Bath, where we see Roman ruins, gorgeous Georgian architecture, a dress museum, a medieval abbey, and the Jane Austen museum. Students enjoy a night at the theater and have plenty of free time to absorb the culture at parks and pubs, shopping and exploring on their own. With one or two Seton Hall professors, students may pursue Harry Potter tours, visit the Dickens museum or Bloomsbury, and investigate the haunts of their favorite authors. Associated courses include: ENGL 3201 The City in British Literature, ENGL 3416 British Novel II, ENGL 3217 Modern British Literature, ENGL 3418 British Novel III, and ENGL/CORE 3381 Faith and Doubt in Nineteenth-Century British Literature.
The Irish Heritage Tour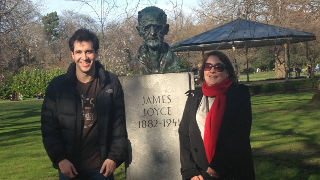 Many Seton Hall students reconnect with family roots on this beautiful trip, which includes guided walking and bus tours of Dublin: Grafton Street, Temple Bar, O'Connell Street, St. Stephen's Green, Phoenix Park. See the Book of Kells at Trinity College, visit St. Patrick's Cathedral, the W.B. Yeats exhibit at National Library, and the bog bodies exhibit at the National Museum. Hear live music and poetry readings in Cork, visit Blarney castle and kiss the Blarney Stone; shop at the Blarney Woolen Mills, then take a bus tour of Killarney National Park and see the breath-taking coastal views of Ring of Kerry. Other sites may include the Kerry Bog Village museum, the Kissane Sheep Farm, Daniel O'Connell's home and museum, the medieval Rock of Cashel. Return to Dublin for Lorcan Collins' infamous Easter 1916 Rebellion Walking Tour, a visit to the Guinness brewery, the Dublin Writers museum, and a live theatre performance. Associated courses: ENGL 4421/CORE3383 Irish Literature Past and Present OR ENGL 3314/CORE 3380 Irish Literature Celtic Revival to the Present.
Interested students should contact Dr. Martha Carpentier [email protected].
British Isles – Ireland, Wales, and England
This tour offers the best of both worlds, Ireland and the U.K.: after landing at Shannon Airport, students visit Killarney and tour the beautiful Iveragh Penninsula, better known as the Ring of Kerry, then visit the Bog Museum, a scaled recreation of an 18th-century village, giving insight into the culture and history of rural Ireland. Next day we go to Blarney Castle and the medieval Rock of Cashel en route to Dublin, which students tour the following day, including many of the sites listed above. On Day 6, we're up early for a three-hour ferry ride to Holyhead, Wales, then a tour of either Beaumaris Castle or Conway Castle, and a bus drive through the gorgeous mountains of the Snowdonia region before settling in a picturesque bed and breakfast in Northern Wales. Another packed day follows, taking students to Shakespeare's birthplace, Stratford, and on to Oxford, the world's oldest university town, the spired city that generations of great thinkers called home. Finally the tour ends in London with Big Ben, Houses of Parliament, the Tower of London, Piccadilly Circus, St. Paul's Cathedral, and the changing of the Guard at Buckingham Palace (if our timing is right), before we fly home from Heathrow Airport. Associated courses include: ENGL 4421/CORE3383 Irish Literature Past and Present OR ENGL 3314/CORE 3380 Irish Literature Celtic Revival to the Present, ENGL 3215 Romantic Literature and ENGL 3416 British Novel II.
Interested students should contact Dr. Martha Carpentier [email protected] or Dr. Jonathan Farina [email protected].
Tuscan Tales: Travel Writing in Italy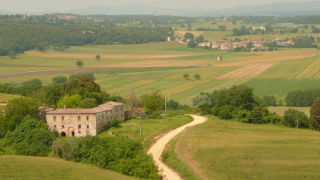 ENGL/CORE 4420 is a two-week, three-credit study abroad course in May and June that combines first-hand experiences of international travel with study of the literary history of travel writing. Students fly to Rome and spend four days exploring the rich history and culture of the city, including a guided tour of ancient ruins and a visit to the Vatican. From Rome, they travel up to the medieval city of Siena, where they visit local sites of interest including the beautiful Tuscan countryside. From Siena students take a short bus ride to Florence to spend several days taking in the famous art museums and historical sites. Along the way, they enjoy plenty of time to discuss literary travel essays and short stories while working on their own travel writing, drawn from immediate experiences. The approximate cost of the program is $3800 (subject to change), which includes all expenses: airfare, accommodations, daily breakfast and dinner, local travel, tour guides, and course administration. Students are eligible for a 25% reduction in tuition (subject to approval). The course may be taken for either graduate or undergraduate credit; it may also be taken for enrichment rather than for credit. This course fulfills the Core III, Engaging the World requirement.
Interested students should contact Dr. Nathan Oates [email protected].
Travel Blog
Visit our blog to see students' photos and read accounts of their life-changing travels with the English Department: https://blogs.shu.edu/english-study-abroad/