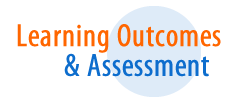 Seton Hall University embraces the principle that effective and meaningful assessment is an integral part of the educational process. This principle is at the heart of our commitment to meet our responsibilities to our students, professions, and the communities that we serve.
Graduating English majors will:
Recognize and discuss major figures, movements, and texts from several periods of English and American literature. (Tailor this to your specific course; i.e. Students will be able to recognize and discuss major figures, movements, and texts from early American literature.)
Understand the major theoretical approaches to literature over the past century and be able to identify them when they are used in critical arguments.
Use basic critical terminology in their writing.
Demonstrate skill in critical interpretation and close reading of texts.
Demonstrate a grasp of genres, whether in literature or in their own writing. In literature, they should be aware of the capacity of genres to represent and define periods, formatively and restrictively, and be cognizant of the implications and problems of genre.
Engage an issue in an essay/paper, establish a thesis after a brief introduction, and then develop that thesis through successive paragraphs toward a persuasive conclusion.
Demonstrate knowledge of the process of writing, so that they are capable of working from notes toward a draft and then revising through successive drafts toward a final essay/paper.
Write with a degree of rhetorical mastery: a command of vocabulary and style---including the sense of audience (usually, a formal style for a college-educated readership), variety of sentence structure, sentence length, and other elements that constitute sophisticated rhetoric and style.
Recognize and avoid logical problems, non-sequiturs, contradictions, and the like. They should be able, conversely, to treat incongruities as potentially productive, deepening the complexity of their thinking and writing.
Locate and integrate secondary sources into an analytical, expository, or argumentative essay. "Integration" here means not only quoting or paraphrasing judiciously to support an argument but also engaging and participating in a critical conversation with the sources through the course of the paper. Appropriate use of secondary sources means the ability to distinguish valid from invalid sources, and the recognition of the varieties and pitfalls of plagiarism.
Demonstrate a practical command of format and convention, including parenthetical citations, footnotes, and bibliography in their written work.
Demonstrate competence in grammar, usage, and mechanics in their written work.