Celebrating Women's History and Our Commitment to DEI
Wednesday, March 10th, 2021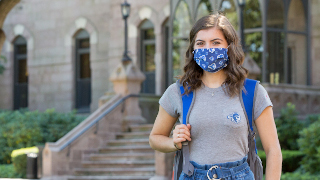 The Seton Hall University Diversity, Equity & Inclusion Committee stands with the Asian community to condemn the increased xenophobia and bigotry resulting from the COVID-19 pandemic. Incidents of hate, violence, harassment, discrimination, shunning and bullying against Asians, Asian Americans, and Pacific Islanders will not be tolerated at Seton Hall. Furthermore, we should strive to be active advocates, upstanders, and allies for marginalized groups. Being servant leaders means our integrity, compassion, and commitment to helping others is exhibited in the classroom, workplace, campus life, and beyond. See here to learn more.
March is Women's History Month, an annual celebration highlighting women's contributions from our past, present, and future. March 8 was International Women's Day, honoring women's economic, political, and social achievements worldwide
March 10 is Harriet Tubman Day honoring the anti-slavery activist who led hundreds of slaves to freedom.
On Tuesday, March 16, at 5:30 p.m., join a student panel discussion on "Saint Elizabeth Ann Seton: A Real Woman of Her Time—A Daughter, Wife, Mother, and Friend." Click here to attend the event.
Save the date! The annual Seton Hall University Conference on Women and Gender will take place the week of March 22–26.
Athletics introduces their She Can initiative, providing student-athletes with professional development, networking opportunities, and support throughout the academic year.
Our women-centered student organizations include the National Council of Negro Women, Women of Diplomacy Leadership, SHU Women in Business, and sororities rich in history and sisterhood like Alpha Omicron Pi, Zeta Phi Beta, Chi Upsilon Sigma, and many others.
"There is no greater disability in society than the inability to see a person as more." - Robert M. Hensel.
Other Diversity, Equity and Inclusion Items and Events:
March 10 at sundown begins Lailat al Miraj. This Muslim holiday commemorates the Prophet Muhammad's nighttime journey from Mecca to the "Farthest Mosque" in Jerusalem, where he was given the instruction for Muslims to pray five times daily.
March 11 is Maha Shivaratri, which is the annual Hindu festival celebrated in honor of the god Shiva. This festival is a significant celebration in Hinduism and marks the remembrance of "overcoming darkness and ignorance" in life and the world.
Coming Soon! St. Patrick's Day festivities (March 17) and a SHU Reads! event from Just Mercy author Bryan Stevenson (March 22).
The DEI Committee is responsible for helping to cultivate and nurture a trusting and collaborative University community that educates and empowers all its members to advance equity, inclusion, and social justice on campus and in the wider world. Please fill out this form if you are interested in sharing events, initiatives, ideas or looking to get involved.
Shawna Cooper-Gibson, Ed.D.
Vice President of Student Services
Co-chairs, Diversity, Equity, and Inclusion Committee
Categories: Campus Life