Meet the diplomacy researcher developing policy prescriptions for peace in Africa, the U.S., and across the world
Thursday, February 9th, 2023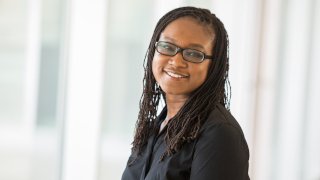 Fredline M'Cormack-Hale, Ph.D.
What happens when conflict ends? For Ukraine, Syria and other countries experiencing wars, what will happen when the guns are laid down? How will groups that have been fighting each other reconcile and rebuild, and ensure guns aren't picked up again?
"The context matters—there's no cookie-cutter approach to resolving conflict and reconciliation," says Fredline M'Cormack-Hale, Ph.D., a researcher and associate professor at the School of Diplomacy and International Relations.
M'Cormack-Hale focuses on teaching post-conflict resolution to graduate students and field practitioners. They many types of conflicts, ranging from military wars to the impact of George Floyd's murder. "Conflict resolution isn't only critical for events happening 'out there' in the world; we talk about democracy and declining levels of trust in this country, African-American race relations and reparations, as well as conversations going on in the U.S. right now that involve race, gender and culture," she says.
M'Cormack-Hale was drawn to research in diplomacy, social justice, and political development in large part thanks to her upbringing in African countries, including Sierra Leone and Kenya.
"While I was very much privileged, I saw firsthand many issues African countries face in terms of low social development indicators, corruption, and poverty. But I also saw citizens committed to making positive changes," she says. "I very much wanted to do relevant and meaningful work, partnering hand in hand with people and communities to support transformation."
To do that, she leads research initiatives that put evidence-based recommendations into the hands of policymakers. "I love being at Seton Hall because my passions are nurtured," she says. "I do a lot of work on Sierra Leone because of my strong personal connection. It's about partnering with local organizations that interface directly with policymakers to ensure change is taken up. Even if I'm not physically present in Sierra Leone, my research and reports help support concrete local efforts to put policy prescriptions into practice."
In Sierra Leone, some of her recent research (in collaboration with the Massachusetts Institute of Technology and the Institute for Governance Reform, a Sierra Leone think tank) involved data collection and analysis to understand how the COVID pandemic was affecting citizens. "You can't endure a long lockdown if you don't have amenities at home. How long can you go without food? Do you have access to water?" she says. Research findings were shared with Sierra Leone's policymakers, who instituted rolling lockdowns that lasted three days at a time, enabling people to go out and get supplies in regular intervals.
M'Cormack-Hale is also vice president of Sierra Leone's 50/50 Group, which works to get more women into political power and policymaking, and she advocates for equal representation and gender parity. Part of her research has informed the group's advocacy work.
"We're collecting data on what women in Sierra Leone want to see done differently by the government, how they want national funding to be used, and what issues they care about most." That data helps form strategic plans, donor reports, and fundraising efforts and assess United States Agency for International Development programs.
Another of M'Cormack-Hale's projects, funded by the World Bank, examined Sierra Leone's health and education sectors. Her team collaborated with the country's parliament and Ministries of Health and Education to implement interventions, work with citizens to transform education and health in their areas and study the outcome of these efforts.
With IGR, she is co-principal investigator of the Afrobarometer, a leading pan-African survey network that conducts research with African nations on various issues related to governance, democracy, and gender equality.
"The ninth round of surveys were just completed in Sierra Leone," she says. From that data, two papers have been published online—one focused on gender-based violence and another on gender equality. "In Sierra Leone, we found that gender-based violence is the most important problem women want the government to address, followed by education and getting more women into government positions."
In 2018, Sierra Leone declared rape a national emergency after a highly publicized case in which a 5-year-old girl was brutally raped and left paralyzed. M'Cormack-Hale has studied this case, writing about it in a new book, War, Women and Post-Conflict Empowerment: Lessons from Sierra Leone, which she co-edited and published with Bloomsbury Press. A chapter explores how groups including a prominent local radio journalist, women's organizations, and government entities came together to advocate for stronger laws and penalties for rape and gender-based violence, extending the punishment to life imprisonment.
"Historically, when there were cases of rape, people would try to settle things at home instead of making it a criminal offense," she says. "You can no longer settle this privately; you have to make it police-based."
Yet the history of gender-based violence in Sierra Leone is complex, and M'Cormack-Hale stresses that there is much more work to be done. "Almost half of survey respondents say it's likely or very likely a woman would be criticized, harassed, or shamed for reporting a rape to authorities."
And there are still limitations within the police system. "There is no access to forensic equipment like rape kits, which makes it difficult for the legal system to prove a crime."
In other research, she has worked with secret, female-led societies that permeate Sierra Leone's social fabric to promote gender parity and decrease gender-based violence such as female genital cutting (FGC). "There are very powerful secret organizations, led by women who play key roles, but you also have these women practicing genital cuts," she says. "Many people see FGC as a human-rights violation, and here you have these women-led organizations perpetrating this violence against women. Many NGOs don't want to work with these groups because of this. But I think there is a role for them to play; we need to talk with them, engage with them, because they are so relevant in the lives of many women."
Although efforts to ban FGC have stalled in Sierra Leone, education is key to reducing its prevalence, she says, as is increasing the legal age of consent. "The older you are, the less willing you are to undergo FGC," M'Cormack-Hale says.
At the School of Diplomacy and International Relations, M'Cormack-Hale is head of online learning. The school's fully online programs include an Executive M.S. in International Affairs, an Executive M.S. in International Affairs and Diplomatic Practice in partnership with the United Nations Institute for Training and Research (UNITAR), as well as a Certificate in Post-Conflict State Reconstruction and Sustainability.
Online courses give students the flexibility to study from anywhere in the world, and the student body represents 30 or so different countries.
M'Cormack-Hale designs coursework for her students so they can explore conflict, resolution, and peacebuilding throughout the world, including case studies on Afghanistan, the former Yugoslavia, Rwanda, Iraq, and the United States. Some of her students are field practitioners, including former ambassadors, while others are switching careers with the desire to work for United Nations, non-governmental organizations or intergovernmental organizations.
"It's a really great mix because students can have different perspectives, interacting with each other and sharing experiences from their own countries in a peer-to-peer learning model."
One of her favorite traditions, which is practiced in her African economic development class, is asking each student to follow a country's development trajectory for the semester, and then bringing in a dish of food from that country to share with classmates at the end of the semester. "It might be jollof rice from Nigeria, for example," she says. "We all share different dishes and have a concluding discussion about what we learned over the course of the semester on topics that include post-confliction resolution, democracy and elections in Africa."
These connections with scholars and researchers, undertaken in the shared hope of improving the world, make M'Cormack-Hale feel blessed to be part of the Seton Hall faculty. "We are not just interested in theory; we are interested in real-world peacebuilding and peacekeeping," she says. "If you desire to be an active voice calling for diversity, equity and justice throughout the word; if you care about learning how communities can knit themselves back together through policy and practice; the School of Diplomacy could be the place for you."
Categories: Nation and World