UN Development Expert Joins School of Diplomacy
Thursday, September 2nd, 2021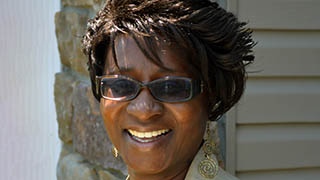 Dr. Emelia Timpo will join the Seton Hall University School of Diplomacy and International Relations in the Fall 2021 semester to serve as the Sergio Vieira de Mello Visiting Chair in the Practice of Post-conflict Diplomacy. She is a development expert with specialization in HIV/AIDS, gender, agriculture, and educational policy with significant experience in project management, monitoring and evaluation, education, policy development, and mainstreaming the needs of persons with disabilities. Throughout her 17 years with the United Nations, Dr. Timpo has worked extensively on gender issues, specifically women's economic and political empowerment, capacity building of women's organizations, and ensuring full integration of gender issues in technical programming. In addition to her work with UNAIDS, Dr. Timpo has worked with various agricultural institutions, including the Food and Agriculture Organization of the United Nations.
Among others, Dr. Timpo's duties as the de Mello Visiting Chair include giving talks/lectures to students in individual classes; conducting seminars and workshops for students, exchanging policy and academic ideas with faculty, staff and students; and providing networking, career consultation, and other opportunities for staff, faculty and students.
The Sergio Vieira de Mello Visiting Chair position was established by the School of Diplomacy and International Relations in honor of Mr. Sergio Vieira de Mello, a United Nations (UN) Diplomat from Brazil, who was killed in the August 19, 2003, at the Canal Hotel bombing in Baghdad, Iraq, along with 20 other members of his staff while working as the UN Secretary-General's Special Representative. Mr. Sergio Vieira de Mello had a long and distinguished career with the UN and is remembered for his effective work to promote peace, human rights and humanitarian aid.
The Seton Hall University School of Diplomacy and International Relations was established in 1997 in a unique alliance with the United Nations Association of the USA, now under the umbrella of the United Nations Foundation, thus providing students with an unparalleled focus on the United Nations in its curriculum. For twenty-one years, the School has offered an innovative summer program, which brings students from Seton Hall and around the world to New York for an intensive week of seminars with United Nations delegates and staff. In addition to an award-winning student UNA chapter and model UN teams, the School has a United Nations and Global Governance Studies Research Center with an internationally popular UN blog and a United Nations Studies graduate certificate program. The School holds DPI status, serves as a UN repository, and hosts the UNA-USA archives, through which they have recently published a book. In 2001, the School had the distinct honor to serve as the Secretariat for the UN Year of Dialogue among Civilizations.
Categories: Nation and World