Diplomacy Students Participate in New Geneva Exchange Program
Thursday, July 21st, 2022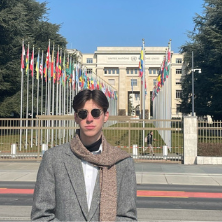 Patrick Condon
Trailblazing diplomacy student Patrick Condon will be in the first cohort of Seton Hall University Diplomacy students participating in a joint 5-year BS/MA program with the prestigious Graduate Institute (L' Institut de hautes études internationales et du développement) for International and Development Studies in Geneva, Switzerland. He'll be specializing in mobilities, migrations and boundaries, and is aiming towards development economics as well as non-profit research post-graduation. Starting in the fall, Condon will begin the next chapter of his academic career, amongst the beauty of Lac Léman, the Swiss Alps and the European Headquarters of the United Nations.
Condon is a fourth-year student studying International Relations, French and Economics and was initially driven to study abroad during his first week at Seton Hall shortly after speaking with Diplomacy alumna Erin Newell, B.S. '20, about her study abroad experience in Brussels, during which she highly recommended Geneva. Though his plans to complete a semester abroad were temporarily halted by the COVID-19 pandemic, he found the right opportunity to study abroad. When Dean Courtney Smith announced the creation of this new program in Geneva, Condon was eager to apply. Condon will complete his final semester of undergraduate courses at the Graduate Institute this fall and then he'll begin the 1.5-year graduate program in the spring of 2023.
During his time at Seton Hall University, Condon has built up quite the resume. He's served as the Treasurer, Vice-President, and President of the School's PRIDE organization, which organizes social events and maintains a safe, diverse space for the LGBTQIA+ community. He's also been the Vice-President, Student Member of the Board of Advisors, and President of the Undergraduate Diplomacy Student Association, which hosts events, engages, and mentors fellow diplomacy students. In addition, he is one of the staff writers for the Diplomatic Envoy, where students pitch and compose international relations themed news articles for monthly publication.
These are just a few of the many outstanding achievements Condon has completed during his time as a student at Seton Hall. "If you want to live and work abroad, you have to look for every opportunity and Seton Hall does a great job at providing those opportunities." As a final note, Condon stated, "I am thankful for the help from the Seton Hall School of Diplomacy and International Relations, Deans Courtney Smith and Ursula Sanjamino, Professor R. Joseph Huddleston, my parents and friends throughout the application process."
Categories: Education, Nation and World