National Security Fellowship Students Brief Senior National Security Council Members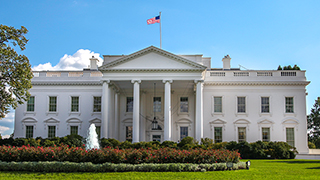 On April 13, 2021, the Seton Hall University School of Diplomacy National Security Fellowship graduate student research team, under the direction of professor of practice Mohamad Mirghahari, had the honor of briefing senior staff members from the National Security Council (NSC) at the White House. As the first official presentation of the final research on Reimagining Counterterrorism in the Age of Great Power Competition, commissioned by the Department of Defense, the team presented their policy recommendations and received feedback from a high-ranking member of the national security sphere.
After the students presented their research and recommendations they developed over a year of research, they took questions and listened to comments from the senior NSC member, streaming live from the White House Diplomatic Reception Room, who congratulated the team on their well thought out, relevant presentation and recommendations. The team was told that their ideas and recommendations are topics the NSC discusses on a daily basis, so their research and presentation will have a direct impact on day-to-day operations and on long-term strategic planning.
One of the key recommendations by the National Security Fellowship students was a proposal of the appointment of a Strategic Messaging Envoy to the National Security Council to streamline the U.S.' strategic messaging strategy across the U.S. Government. The recommendation will be read by Jake Sullivan, the current National Security Advisor. The team's research is being disseminated across the National Security Council in addition to appropriate stakeholders in the U.S. Government.
In addition, the students had the opportunity to pose questions to the NSC on the Great Power Competition problem set and National Security strategy.
To learn more about this year's National Security Fellowship activities, click here.
Categories: Nation and World