Peacebuilding Partnership Established Between Seton Hall and the University of Jordan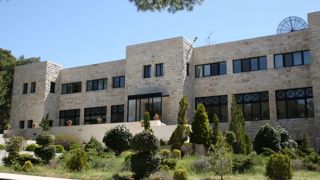 The spirit of international cooperation and understanding inspired an agreement between Seton Hall and the University of Jordan.
On May 28, 2020, the School of Diplomacy's Center for Peace and Conflict Studies (CPCS), together with the Center for Strategic Studies (CSS) based at the University of Jordan, established a Memorandum of Understanding supporting their collaborative initiatives. Signed by Seton Hall's then Interim Provost Karen Boroff and CSS Director Zaid Eyadat, the memorandum attests to the importance of international cooperation to mutually strengthen and enrich educational and research experience on international peace and conflict studies.
"Better understanding of conflict dynamics in the Middle East, and how to build peace, is essential not just for the region, but also globally. The partnership with the Center for Security Studies is a cornerstone of our contribution to this endeavor, providing a platform for academics from the region and the wider international community to work and learn together," said Courtney Smith, Acting Dean of the School of Diplomacy and International Relations.
"On behalf of the Center for Strategic Studies, I am delighted to be partnering with the Center for Peace and Conflict Studies at Seton Hall University. International cooperation is paramount to uncover the commonalities of human experience, especially within educational institutions. I am confident that the signing of this Memorandum of Understanding will lead to a long and fruitful relationship between our two establishments." said Zaid Eyadat, Director of Center for Security Studies.
The year-long agreement serves to enhance networks between the two institutions for higher education and encourage the development of collaborative projects, providing a foundational basis for both academic and cultural activities.
Under the Memorandum, CSS will also provide advisory support to CPCS relating to geo-political dynamics in the Middle East and North Africa region, with CPCS assisting CSS on matters relating to best practice in mediation, peace building, and conflict sensitivity. As a first step, the two institutions will cooperate on a research project on economy and peace building in Yemen.
About the Partners
The Center for Peace and Conflict Studies is a creative hub that merges cutting-edge academic research, education programs and practical initiatives aiming to reduce violence, and build more peaceful societies and international relations. The Center promotes interdisciplinary research and action on peace and conflict, with an emphasis on conflict prevention, management, and resolution. Its work encompasses US-China relations, practical programs in the Middle East and North Africa and religious peace building.
The Center for Security Studies was established in 1984 as the research unit of the University of Jordan. The Center was rated the 'Middle East and North Africa Center of Excellence 2016-2018' by the Think Tanks and Civil Societies Program (TTCSP) of the University of Pennsylvania in its June 2020 report, following is first place ranking in annual assessments in the period 2016-2018. CCS conducts strategic analysis in regional and global geo-politics, security, defense, foreign policy, rule of law, macro-economics, health, education, religion, gender, minorities and refugee issues. CSS is one of the only centers throughout the region that conducts regular quantitative polls and surveys, complemented by the publication of research papers and books. CSS's work continues to grow beyond the region, utilizing conflict management resolution techniques in order to provides channels for diplomacy.
Categories: Education, Nation and World