Dr. Kevin McGrath Speaks to Seton Hall's National Security Fellows
Thursday, February 10th, 2022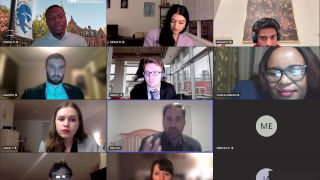 NSF Team meets with Dr. Kevin McGrath.
Dr. Kevin McGrath, a senior analyst with a global intelligence and risk management firm met with the Seton Hall School of Diplomacy and International Relations National Security Fellowship (NSF) students in January of 2022 to discuss the role of terrorism in the Pakistan, India and Indo-Pacific region. As author of Confronting al Qaeda: New Strategies to Combat Terrorism, Dr. McGrath's expertise provided timely insight that helped the students assess their recommendations and find ways to improve them.
For the 2021-2022 year, the NSF is working with the State Department to foster better relations between the U.S., Pakistan, India, and the Indo-Pacific region. Students worked to identify areas of influence including public diplomacy, defense opportunities, and bi-lateral relationship building. Establishing connections between these topics requires a more nuanced understanding of the region and international security concerns. To assist the students in their learning, Mr. Mirghahari lined up a diverse list of speakers with operational and political experience to provide insight into topics ranging from counterterrorism and space security to culture and religion.
In a blend of lecture and conversation, Dr. McGrath covered foundational concepts and analyzed six different approaches to terrorism. These levels examined the impact at the individual and organizational level as well as provided policy recommendations. Throughout the conversation, he encouraged NSF students to identify their own perceptions and often misperceptions about terrorism as a way for students to expand their cultural perspective in addressing terrorism. Students followed Dr. McGrath's presentation with questions. Those questions focused on the role of social media in countering extremist narratives, ways to leverage defense and economic relations with Pakistan, the role of deradicalization programs and their impact on the local communities, as well as the importance of addressing local level grievances and balancing domestic and international interests. Dr. McGrath concluded his presentation with career advice, challenging the students to try different things and work to diversify their talents and opportunities.
First year student and NSF member Allison Risewick appreciated the interactive nature of Dr. McGrath's presentation as it "help[ed] better our understanding of the knowledge he was sharing." Second year student Chimdi Chukwukere felt similarly and added on that Dr. McGrath's discussion was "one of those sessions you come out from and you feel empowered to tackle world challenges at any level."
The NSF began its fifth year with the largest cohort of first- and second-year graduate fellows. NSF applies the academic knowledge from the classes at the School of Diplomacy with practical research and analytical projects for key governmental agencies. Under the guidance of alumnus and Department of Defense consultant Mohamad Mirghahari, students work together to analyze the provided problem set and provide policy recommendations to address areas of influence. The NSF is working to finalize its report, and gearing up for presentations to the State Department and other agencies later this year.
Categories: Arts and Culture, Nation and World